Patrons of the Farmers' Market Restaurant are familiar with Carline Camp, one of the waitresses there. They may not know that several years ago she was able to receive urgently needed medical treatment through the benevolence of a surgeon in Miami.
She told the News Leader "Dr Levine did two cancer surgeries on me and would not take a dime. Since I could not pay him, I look for ways to pay it forward and to recognize others who work hard in our community, to recognize the good stuff."
Last Thursday, the 10th of November she found one of those ways "to pay it forward".
Homestead Police Explorer Post 47 and their Chief Advisor, Homestead Community Policing Officer Shanell Wadley, were holding their regular Thursday meeting at their facility in JD Redd Park. Plans were for a pumpkin carving contest in addition to the normal Post training activities.
Then Amanda Coleman, Ms. Camp's niece, arrived with a surprise spaghetti dinner to feed the entire Post.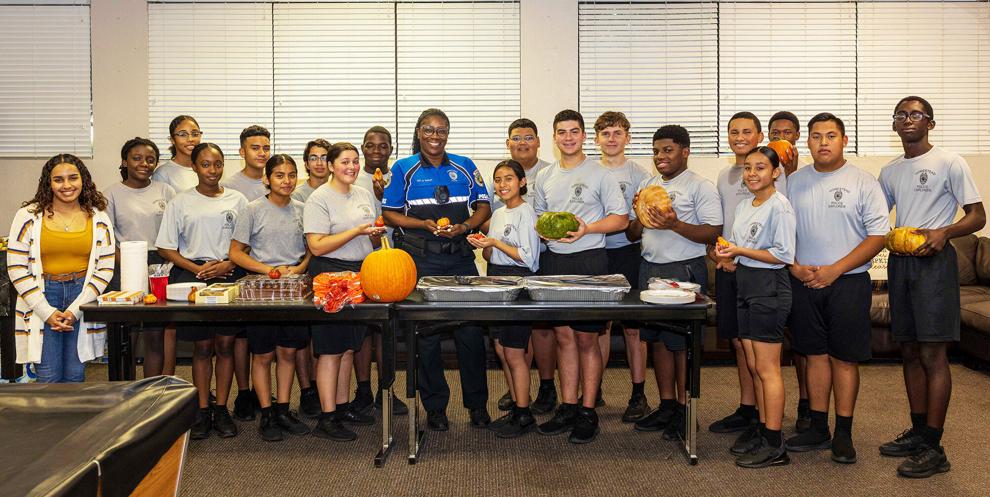 Amanda told Officer Wadley and the News Leader, "Carline bought the dinner and Farmers' Market cooked it. We've been working with two of the Post's Explorer Leaders to make this happen and to keep the surprise." She continued, "Carline and I know how hard the Explorers and particularly you (Officer Wadley) have been working over the last few months and we wanted to do something to thank you all."
When asked why she chose the Explorer Post Carline said, "I really want to honor Officer Wadley. My grandnephew is a member of the post and I've gotten to know that she (Officer Wadley) is not only a great Police Officer, but a great person. She and the Police Explorers are such a good example of what is right in our community."
She continued, "For their meal, I just paid for the ingredients. Anthony Buscemi, who owns Farmers' Market Restaurant, did all the cooking for free."
The Homestead Police Explorers are an important part of almost all City of Homestead and community events.
Recently they have been involved in National Night Out, HPD's Community Outreach Programs, and the celebration of Losner Park's Reopening.
Officer Wadley said, "There is a lot of work in being the Chief Advisor to the Explorer Post, but I know how important it is to these kids. Working with the group and the individual Explorers and sometimes their families is rewarding.
Especially so when you see the progress they make in the Explorer Program, in school and in life."
Explorer Benited Brooks, who is the Post 47's Deputy Chief said "It was hard to keep this as a surprise for everyone but well worth it. On behalf of all the Homestead Police Explorers thanks to Ms. Camp and her family for the great meal."