The Kiwanis Club of Homestead-South Dade's 48th Annual Good Friday Prayer Breakfast—held at the Harris Field Pavilion since the COVID pandemic—was an outstanding success according to organizers.
A crowd of 300 gathered to pray together and hear former South Dade High School Principal Javier (Javi) Perez's stirring speech, 'No Legs, No Problem.'
While coaching his son's baseball team, Perez, was hit by a drunk driver in 2016, causing the amputation of both his legs. His injuries were so severe doctors gave him only a three percent chance of living.
"This was a tremendous event as we returned to our 'home' at the Harris Field Pavilion," said Homestead-South Dade Kiwanis President Emily Guzman. "Perez's message of hope, healing and faith was inspirational."
Following the welcome by Guzman and Erica Avila, Florida Kiwanis Division 26 Past Lt. Governor, three different pastors—one in English, Spanish and Creole—lead the invocation.
Worshipers enjoyed breakfast prepared by the GFWC Woman's Club of Homestead, followed by Perez's moving presentation.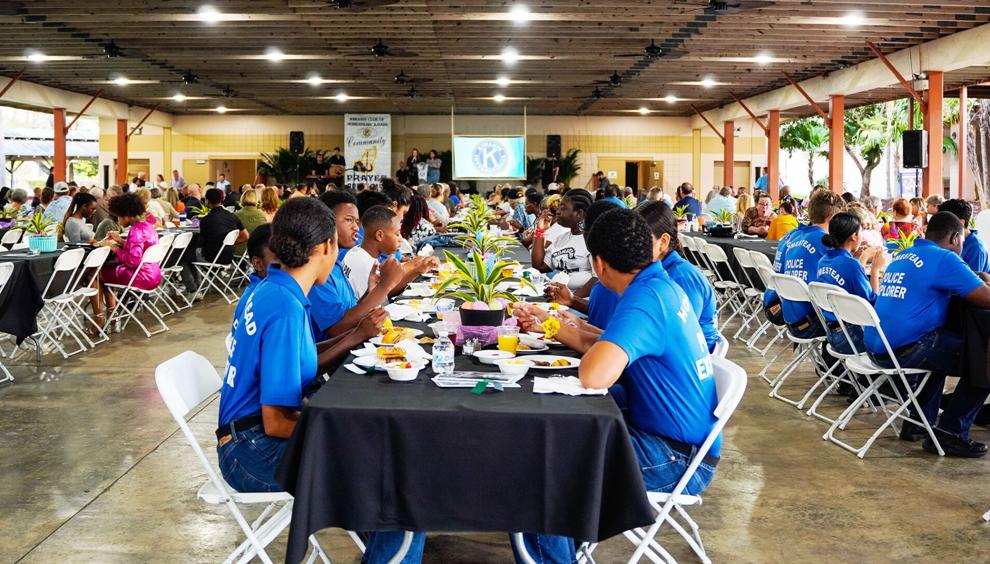 "This was a beautiful, community event bringing together people of all denominations," said Avila, a City of Homestead Councilwoman and past president of the Kiwanis Club of Homestead-South Dade. "Being back at Harris Field marks another step in our community's recovery from the pandemic."
For Kiwanis Club of Homestead-South Dade membership information, or to participate in one of its upcoming community service projects, visit HomesteadKiwanis.org or contact Guzman at (786) 399-4161.