Freebee is free to ride and 100% electric!
Freebee is a free transportation service being provided by the City of Florida City to anyone within the designated service area.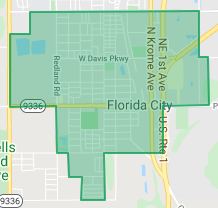 Freebee can be contacted for a ride by using the "Ride Freebee" mobile app.
The rides are "on demand" and "door to door" to get people to their destination conveniently.
The Freebee vehicle is an eco-friendly, electric passenger van that seats up to ten people at a time.
For the duration of the pandemic the maximum capacity will be limited to four people at a time, masks are required to be worn by passengers, and the Freebee drivers will also be wearing masks, gloves, and wiping down/disinfecting the vehicles throughout the day.
The service launched on Monday, July 27.
Hours of Operation: 7 am to 7 pm, Monday through Friday.