Flames crackling through landscape close to the Ernest F. Coe Visitor Center in the Everglades National Park and smoke visible from a distance are not always cause for alarm. Tuesday, February 4, 2020, was another day of fires deliberately set as a planned prescribed burn; an important aspect of protection against out-of-control wildfires.
The seeming paradox was addressed by Allyson Gantt, Chief of Communications and Public Affairs, Riki Hoopes, Fire Communication
Specialist, Aerin Land, Fire Ecologist, and Michael Gue, Prescribed Fire Specialist, all assigned to the Park. They provided information and
responded to questions as teams used hand-held drip torches to ignite fires in an arc around the buildings. Hoopes explained this particular burn was a Fuel Reduction Burn while an earlier one was focused more against invasive botanical species. Although these actions of the Park's Fire and Aviation Program are not new, they are not generally well-known to the public. The method has been in use in the National Parks Service since 1958 and Everglades National Park has averaged 110,000 prescribed burn acres per year over the past 3 years.
"We face a challenge of public perception and want to change that," Hoopes continued. "Fire is a tool and we are making it do what we want it to."
According to the information packet and further discussion by the various staff experts, the key messages are prescribed fire, "1) Can help reduce the risk of wildfire; 2) can be used as a tool to help protect communities adjacent to natural areas (wildland urban interface); 3) Is essential in restoring the fire-adapted ecosystem of the Everglades; and 4) Is safe, more efficient, and more cost effective than wildfires."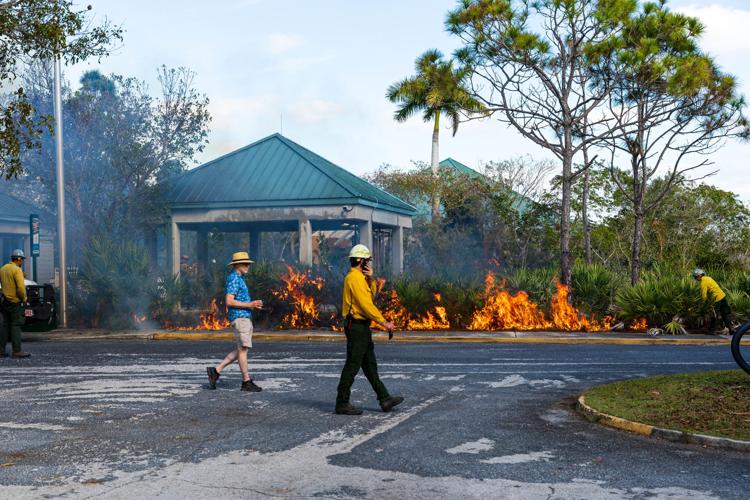 "Fire adapted ecosystem" is a critical point. Since fires occur naturally within the Everglades to clear away undergrowth, plants and animals alike have adapted to those cycles. "Fire breathes life into the park through regeneration of native species. Live oak, wax myrtle, and palmetto are among numerous fire-adapted plants which are important to wildlife and able to survive and re-sprout after fire. Without fire, and with years of overgrowth, some species would eventually cease to exist. Fire is also used to help eliminate non-native species such as Old World Climbing Fern from the park." When fire suppression is practiced, especially for extended periods of time, the result is additional undergrowth that fuels out-of-control wildfire. These are the fires that endanger firefighters, can sweep through the Park, and threaten nearby development.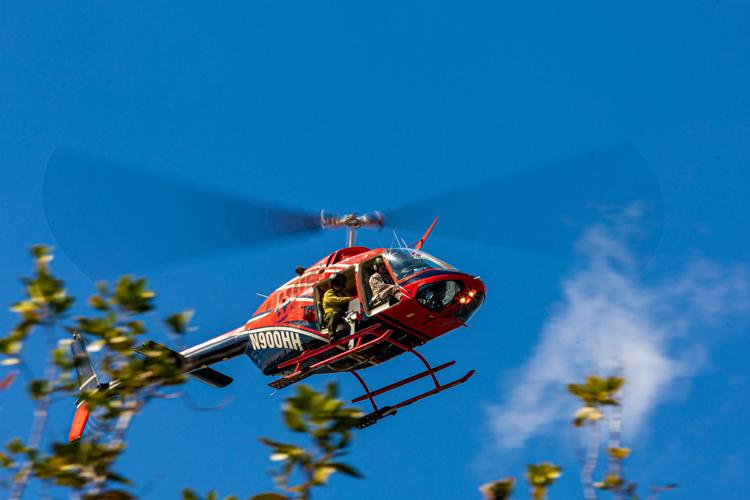 As the dry season of winter enters the months of April and May preceding the wet season of summer, thunderstorms are common. Lightning strikes are the primary source of wildfires, so prescribed burns in January and February get ahead of that cycle. The Park's Fire and Aviation Program is staffed with almost twenty different personnel and controlled parameters for planning burns include, "…specific winds, fuel and soil moisture, and with predetermined resources available. These factors enable managers to control the speed and intensity of the fire, limiting risk while still achieving the objective of fuel reduction."
Team members of Wildland Fire Modules from Big Cypress National Preserve, Tennessee's Great Smoky Mountains National Park, and Arkansas's Buffalo River National Park are in to help ensure safe and efficient burns. There are also other personnel within the Park who have been trained for certain functions and are "Red Card" qualified (have an Incident Qualification Card) if more hands are required. There is a means for volunteers to become certified and some internships available, but requirements are stringent.
In addressing safety for wildlife,"….burns are ignited in a manner to allow time and space for wildlife to move away from the fire. They are applied in a mosaic pattern, leaving patches of unburnt vegetation that can act as refuge during and after a fire. Wildlife can then utilize the burned areas within days following a fire and take advantage of areas in differing stages of recovery." Many birds will come into an area immediately after a burn is completed and begin to eat insects. There have also been times when rangers or python hunters have been able to capture the destructive snakes they might not otherwise see during daylight.
Land, as a Fire Ecologist, carefully gathers data before and after the burns; data that supports benefits of the program. When asked about regrowth, she explained new grass could be seen in one to two weeks following a burn. When natural fires do occur, they are monitored and if there is no specific danger beyond where they are burning, park staff do not intervene.
Although there is obviously smoke generated, wind speed and direction are factors when planning a burn in order to minimize affect to the public.
For info contact Allyson Gantt, Chief of Communications and Public Affairs, Everglades and Dry Tortugas National Parks, allyson_gantt@nps.gov,
Tel: (305) 242-7714.