Al Garcia, president of HMS, talks to the News Leader about exciting changes at our hometown track amid the effects of Covid-19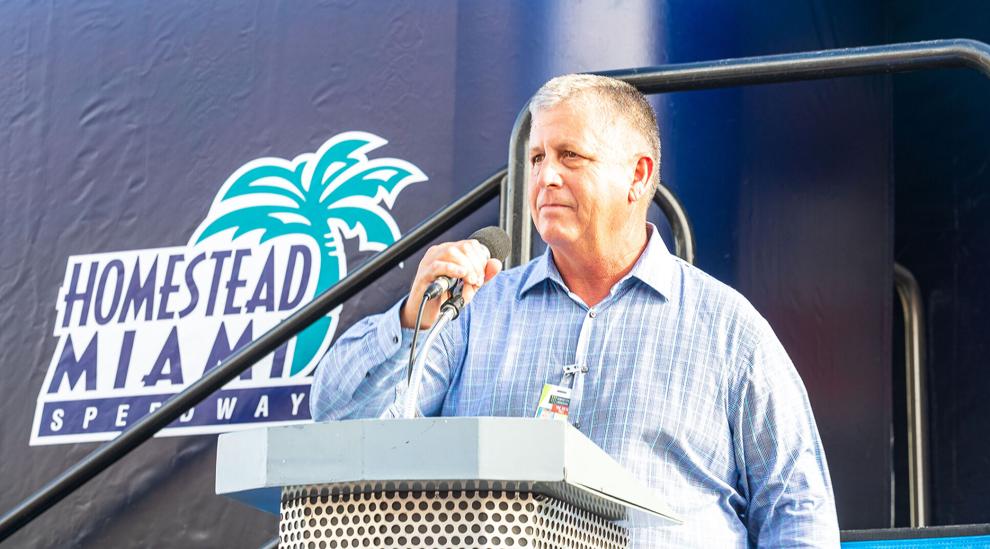 Homestead Miami Speedway President Al Garcia talked with the News leader and discussed a wide range of subjects beginning with the upcoming Race Weekend's Contender Boats 250 and Dixie Vodka 400.
Last year's Dixie Vodka 400, held in June, was the first major sporting event to be held with fans in attendance.
Garcia said "We have a lot of pride in our efforts last year. Working with the State and County authorities we were able to bring 1500 Military members and their families to the Race. It was a lot of hard work by many people to make this happen. We're really proud that by all accounts there was no spread of the virus or positive tests as a result of the event."
Plans this year are to expand the number of fans allowed to 18% of the tracks capacity similarly to other stadium-based events being held in South Florida while providing the same level of safety.
Garcia described the screening processes that will be used. Those inside the "NASCAR Bubble" including the garages, pits, and infield will respond to health questionnaire by email and then undergo temperature checks both Saturday and Sunday before entering the track.
A second process will be used for those Al termed, "Internal Guests, those volunteers and workers that help us to put on the event, ushers, tram drivers, food and beverage workers, security, information booth workers, and Police Officers on property will be screened at their own location before they start work."
He continued, "Fans will park in the parking lot and be screened at the entrance gates. They will be asked a few health questions and have their temperature checked. If all is good they will then proceed through security checks for their bags and coolers."
The Title Sponsors for races this year are Contender Boats, a local Homestead business, and Dixie Vodka. Garcia commented, "Contender Boats has been a big supporter and neighbor for a number of years. Both they and Dixie Vodka are looking to take their brands from regional to a more national customer base. Dixie Vodka has chosen NASCAR as their platform to become a major nationwide beverage company."
In addition to Title Sponsorship for the 400, Dixie Vodka is a major sponsor of Cole Custer's Stewart Hass number 41 Mustang this year.
The conversation then turned to changes in the sport. When asked about new teams and team owners such as Michael Jordan and Pit Bull, Garcia responded, "You always want to attract new owners to the sport. Not only the high-profile owners like Pit Bull and Jordan but others are finding the sport more approachable and affordable. NASCAR has done a good job both in leveling the field competitively and diversifying the overall appeal to our fans. The Next Generation Car that will debut at Daytona next year will continue to reduce ownership costs."
At last year's Dixie Vodka 400 Pit Bull in his video welcoming the military fans also talked to the wide appeal of racing. Garcia remembered, "Pit Bull said
everyone loves fast cars and a good story." Garcia continued "NASCAR definitely has fast cars and you only need to look to this year's Daytona 500 winner for a great story." Garcia was referring to 36-year old Michael McDowell who reached Victory Lane for the first time in his over 300 starts.
We next discussed changes at Homestead Miami Speedway (HMS). Over the last year, a section of grandstands at the end of the front stretch / beginning of turn one has been removed. Garcia explained that many of the seats in those stands had been somewhat compromised when the banking in that area of the track had been increased in the last major track reconfiguration.
He continued, "We are always looking for ways to improve the fan experience. By removing those seats, we have been able to put in a viewing deck." This deck and the beverage and food area behind it will enable fans to view and experience the race in a new way not confined to their seat. This more social approach to fan participation mirrors similar innovations in many modern football and baseball stadiums. While social distancing and capacity restrictions will restrict use this year, in the future Garcia believes that this will be a very popular area.
Along with the "Beach" in the Turn 3 area of the infield, opened for Race Weekend of 2019, HMS continues to look to cater to many of the younger and new fans of NASCAR Racing.
Along these same lines Garcia continued, "You will see a little of it this year, but in the future we ae going to celebrate what South Florida is all about. We want to bring the experience of Cuban Coffee in Little Havana, Agriculture and Eco-tourism in Homestead and the Redlands, Art from the Wynwood District and Conch Fritters and Rum Runner from Key Largo to our fans from all over the country."
The other major change at the track will be the large construction site on the right of Palm Avenue fans will see as they approach. Soon a major distribution center will rise in what was an area sometimes used for overflow general parking.
Garcia said, "We saw an opportunity to bring a partner to town that's going to create around 500 high-paying jobs for this part of the county. We take a great deal of pride in being a good corporate citizen. We are partners with the City of Homestead, they are our landlords, so every chance we get to help in this sometimes-forgotten part of Miami Dade we jump on it."
The overall economic impact of the track to Homestead and Miami-Dade and Monroe County is in the 315 to 320 million dollar range per year. While NASCAR Race Weekend is the most visible event at HMS, the track hosts events 300 days during the year. Ranging from the 24-hour Miami Ultra Skate, SCCA and FARA race weekends to motorcycle and karting championships, HMS brings participants and fans not only from across the country but from throughout the world to Homestead and Florida City hotels and restaurants.
Garcia and everyone at HMS are very proud of the direct dollar impact to charitable, church, and civic organizations. Those Internal Guests that he referred to earlier and the many diverse organizations that they represent will see, "In a typical year, 250 to 300 thousand dollars of direct impact in what for most of them will be their largest fundraiser."