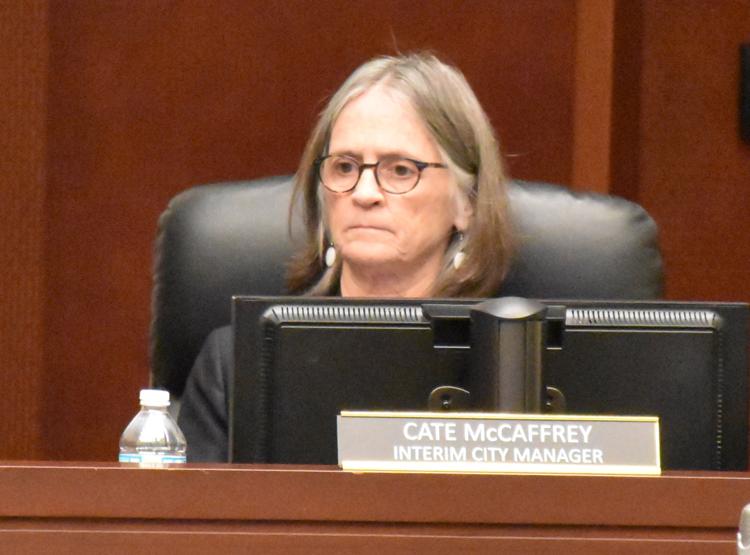 The six-member Homestead City Council met Wednesday January 22 in regular session, Councilmember Stephen Shelley attending by phone.
A resolution appointing interim manager Cate McCaffrey to a three year contract as City Manager was offered by Councilmember Shelley.  McCaffrey was sworn in as interim Manager on January 4 at the conclusion of George Gretsas' term as City Manager.
"This discussion item for my colleagues is to provide some clarity for staff," he said.  "This provides stability and continuity at the employee level so there is no confusion about who's in charge, concern about jobs or the direction given."
"A search process can take a long time, at least three months," Shelley added.  "Cate's familiar with all our ongoing projects to revitalize the downtown, able to put the final pieces in the process and be successful long-term."
The contract terms pay McCaffrey $200,000 a year for three years plus annual cost of living increases.  Benefits besides car and phone rental and vacation and sick leave compensation include $3600 a month deposited in a retirement account without required contribution plus a twenty week paid severance clause. 
Councilmember Patricia Fairclough-Staggers agreed with Shelley.  "I support this item.  It's not unusual for government entities to promote from within.  Cate has the qualifications, the competency and the skill set to work in this capacity."
"I've known Cate for 61 days," said Councilmember Sean Fletcher.  "It's a comfortable working relationship however I take issue with adding a three year contract at this time.  I need additional time to work with her although Cate meets the criteria for the position with her education and background."
Councilmember Fletcher thought Council should consider raising McCaffrey's pay as interim manager to the level of pay of the previous city manager.  The idea was not taken up by Council.   
"There's more City progress in the last five years than in the last thirty years," said Councilmember Larry Roth.  "Stability in the manager's office has a lot to do with it.  I'm a firm believer in hiring from within.  Loyalty comes along with that.  Cate understands the City and the staff."
Councilmember Jenifer Bailey agreed.  "I understand Councilman Fletcher's position but I've known Cate for two years now," she said.  "Cate understands the job and is very compassionate.  She's worked as the right hand of our past city manager for years, so I can't imagine anyone doing a better job."
Mayor Steve Losner said, "Cate brought this contract to me saying she knew I didn't like surprises.  I'm surprised that this was being brought forth so quickly."
"I told her I was not willing to bring the full contract forward at this time," Losner continued.  "Unfortunately, rather than sit back and reflect, she solicited successfully Mr. Shelley to bring this matter up." 
"Interim only means someone does not have a long term contract," Losner said.  "The manager's position has absolute power; day to day hiring and firing and running agencies are in the sole purview of this city manager."
"She's done a good job and was a stellar number two to Mr. Gretsas," the Mayor said.  "I had frank discussions with her about some significant departmental issues that exist and wanted to see how she dealt with them before she got a long-term contract.  That would give me a good idea if she's a professional or a politician counting votes every time she walks in the room."
"I fully support amending the interim contract to provide full salary and benefits from this proposed contract," Losner said.  "My concern is more about the speed with which this was brought forward rather than the process.  It's nothing personal or derogatory but I'm not ready to pull the trigger on a permanent contract."
The comment period on the resolution yielded five public comments opposed to the new contract and one comment in favor of it. 
The resolution passed four to two, with Losner and Fletcher voting no.
During this discussion Mayor Losner referred to an "orchestrated lovefest" witnessed at the Council meeting.  He was referring to seventeen public comments about the Homestead police force offered at the close of Council business, fifteen in favor and two opposed.  Positive remarks were loudly applauded despite Council's decorum policy prohibiting clapping.
"There's something more going on in this room tonight than just the contract of the City manager," the Mayor said.  "After the last meeting, I asked Cate the legitimate and appropriate question as to why there were so many police officers in the back of the room."
"Why do we have so many on-duty police officers being paid to stand in this Council meeting tonight at taxpayer expense?  That's the really big picture here," said Mayor Losner.  "Well tomorrow Cate will have a contract.  Why we had the police presence we had tonight is going to be at her total discretion.  For Council there's not a lot we can do about it without a lot of expense."
Asked about all the comments after the Council meeting, Police Chief Al Rolle said, "I didn't make any calls."
Before adjourning, Council held a lengthy discussion on the process for moving forward to fill vacant Council seat #5.  The City Attorney Matthew Pearl was asked his recommendations for methods for this unprecedented action.  The Attorney suggested three options based on Robert's Rules, one of which was a written ballot revealing how each member voted.
"There are no secret ballots allowed under the Sunshine law," Pearl said.
Council consensus supported the balloting method that would include all five current applicants for the position.  As balloting continued, names with fewer votes would be removed until a winner was reached hopefully.  Tied ballots would be re-balloted once before adjourning to the next meeting if the tie persisted.  Council determined to pursue this course through its April meeting, allowing two regular meetings for the process. 
An agreement was reached to not call the issue unless all six Council members were physically in attendance.  
Council approved its regular agenda earlier.  It unanimously approved both the comprehensive plan amendment and the rezoning of a 1.44 acre parcel along Farm Life School Road for a possible gas station.  Sixteen additional homes on 3.7 acres were approved at the neighboring Tropical Villas addition, including a county-approved left turn lane along southbound Farm Life School Road. 
Apart from several routine items like street resurfacing and vehicle purchases, including grants for new park equipment, Council approved a one year service contract for managing the air conditioning units at the Seminole Theatre.
Council also approved City sponsorship of the 3rd annual Rotary Stone Crab and Seafood Festival scheduled for Saturday February 29 and Sunday March 1, in exchange for a $1000 fee to use the former baseball stadium land plus Rotary's $3000 contribution to the City Parks fund.