Editor's note: Brush fires are part of living in South Florida. Last week, our area experienced the effects of a stubborn brush fire that burned for almost a week. It consumed 13,000 acres of vegetation, spread smoke and ash for miles, and closed Card Sound Road to all traffic for two days. Luckily, no injuries were reported, and no homes were damaged.
Fire has always had a rightful place in South Florida. Ecosystems throughout the South Florida National Parks & Preserve are considered fire adapted and in many cases fire dependent. Not only is fire important for this landscape but it is an essential piece in the larger mission of conservation across the National Park Service (NPS) and other agencies charged with managing and preserving these natural lands.
We know that fire is important for the landscape. Evidence shows that ash created from fire can increase the percentage of beneficial nutrients in soil. Fire can limit invasive plant growth and spread. It is essential in maintaining several fire dependent ecosystems and preserving the habitat of many threatened and endangered species.
Landscapes across south Florida and the National Park Service units within south Florida vary, however the four separate NPS units—Big Cypress National Preserve, and Everglades, Biscayne and Dry Tortugas National Parks—
have historically worked together to manage fire. Now all four units are
unified as South Florida National Parks & Preserve Fire and Aviation Management, implementing an efficient, effective and cohesive approach to managing fire.
Fire logically wants to follow the path of least resistance, and burn where the vegetation, or fuel, is susceptible.
Although we are now managing fire on NPS lands in south Florida under the umbrella of South Florida National Parks & Preserve Fire and Aviation Management, fuels don't suddenly stop or change at the NPS boundary.
The landscape is still connected both by fuels and values across federal, state and private boundaries. Since we are not the same agencies, our purposes and objectives do not completely align, but we all share the goal of conservation.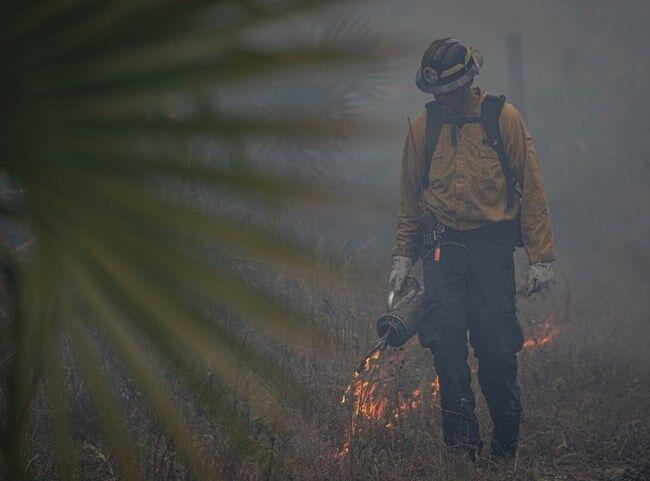 South Florida National Parks & Preserve Fire and Aviation Management realized the importance of building relationships that would enable cooperation and management across jurisdictional boundaries with our state and tribal neighbors.
In early 2019, Everglades National Park and the South Florida Water Management District (SFWMD) began discussions about using prescribed fire to treat the land across agency boundaries. With multiple planned burn units
separated only by a boundary line, having two separate planning groups, two separate operations, and finding two separate days to meet the prescribed weather parameters was counterproductive. It quickly became a question of not if, but how, burning together could become a reality. Despite the differing policies and requirements, these two agencies pushed forward, and over the next few years, that campaign became reality as multiple prescribed fire units were burned as one, sharing planning and resources across jurisdictional boundaries under a unified command platform.
After successfully completing multiple operations with SFWMD, South Florida National Parks & Preserve took the next step and began burning in cooperation with Big Cypress Seminole Reservation. The torch was passed quite literally over the fence from federal to tribal land in a prescribed fire operation on the northeast side of Big Cypress National Preserve.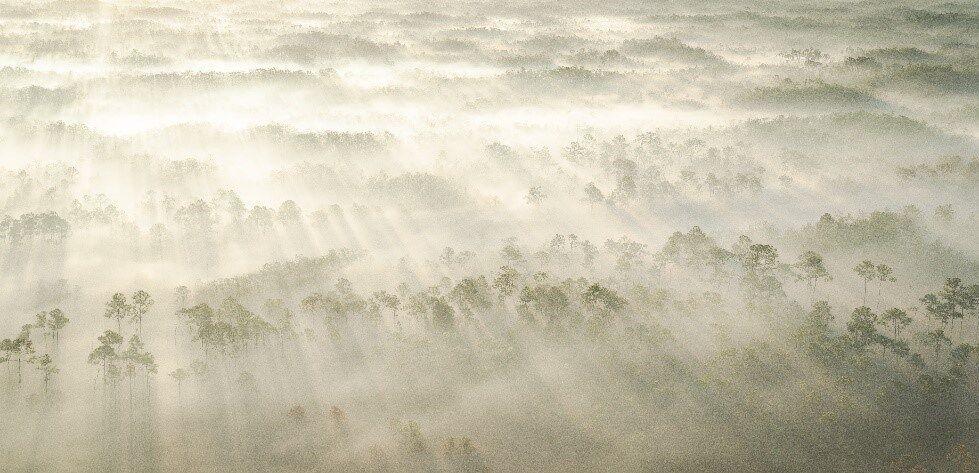 These recent accomplishments exemplified the culmination of changes implemented over the course of the past few years. By taking lines off the map, South Florida National Parks & Preserve has moved towards seamlessly managing fire, minimizing risk, choosing when, where and how we burn areas that have always needed fire to thrive, regardless of land ownership and agency boundaries.
Landscape level fire management is becoming the new norm as fire is burning across multiple counties and jurisdictions, from federal lands to state, tribal and private lands, in planned burn operations that will help restore the south Florida ecosystem. Conservation does not stop at agency boundaries, and now, neither do we.
The world is changing, and it is up to fire managers to redefine the role fire will play within fire dependent ecosystems and around threatened communities into the next century. A landscape level approach to prescribed fire has set the stage for South Florida National Parks & Preserve Fire and
Aviation Management to take a proactive approach to the way we live and interact with fire, a force that has always played a vital role in these landscapes.
Erika Hoopes, South Florida Parks & Preserve, Fire and Aviation Management