When Haiti was struck with an earthquake measuring at 7.2 early on the morning of August 14th, the United States quickly began a humanitarian response.
Triggered by US Ambassador Michele J. Sison declaration of a disaster, the US Agency for International Development's Bureau for Humanitarian Assistance (USAID / BHA) began support by activating and deploying a Disaster
Assistance Response Team (DART) and an Urban Search and Rescue Team from Fairfax Virginia.
This team is identical to the Miami Dade Fire Rescue Team that responded to the Surfside Condo collapse. For United States Government international disaster response USAID/BHA plays the same role that FEMA does for domestic response.
As the magnitude of the devastation in Haiti became known USAID requested that the Department of Defense provide logistical, transportation, and other unique capabilities. Southern Command (SOUTHCOM), located in Miami, is responsible for military operations in South and Central America and the Caribbean.
Based on the USAID request SOUTHCOM sent a small team from Special Operations Command South, headquartered at Homestead Air Reserve Base (HARB), to the US Embassy in Haiti to provide on the ground information and to work with the DART to define requirements.
SOUTHCOM also began to rapidly deploy helicopter support. First to arrive were three UH-60 Black Hawks, three CH-47 Chinooks, and two HH-60 Pave Hawks. These helicopters came from Joint Task Force Bravo, a SOUTHCOM organization located in Honduras. They joined two US Coast Guard Black Hawks in providing transportation for relief personnel, supplies, and medical evacuation. Two additional UH-60s and a UH-72 Lakota from the Puerto Rico Army National Guard (PRANG) arrived soon after. Task Force Bravo Army and Air Force helicopters are flying out of Naval Station Guantanamo and the PRANG helicopters are flying from the Dominican Republic.
As the number of military assets and organizations involved in the humanitarian response grows so does the requirement for command, control, and coordination. To provide this SOUTHCOM formed Joint Task Force Haiti (JTF-Haiti).
A joint task force is a temporary organization consisting of the military assets assigned to an operation along with a Commander and staff. It is termed joint when more than one military service is involved.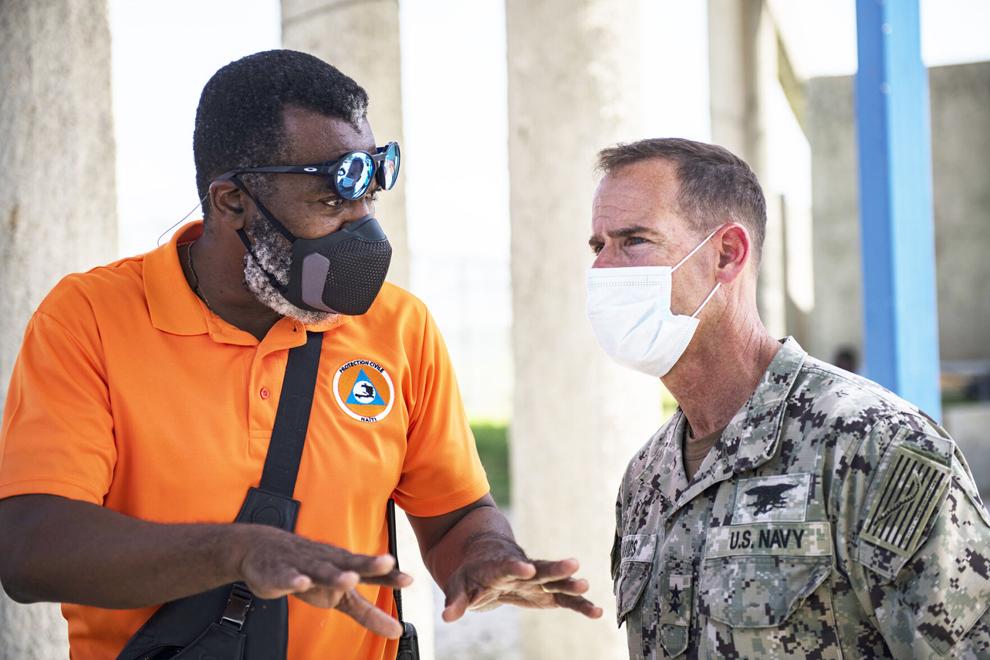 Rear Admiral Keith Davids, Commander of SOCSOUTH, was selected to command JTF-Haiti. He and other members of SOCSOUTH who will staff the Headquarters of the task force deployed from HARB on an Air Force C-130 on 17 August. The Headquarters initially set up in the Embassy alongside the DART. It may be shifted to the USS Arlington.
The USS Arlington, an amphibious support ship homeported in Norfolk, VA, became part of JTF-Haiti on 21 August. Onboard are around 600 Sailors and Marines.
It also carries two SH-60 Seahawk helicopters, Landing Craft Utility, and a Fleet Surgical Team.
The USS Billings, a littoral combat ship homeported in Mayport FL, joined the Task Force on 23 Aug. It carries a SH-60 Seahawk and a Scan Eagle drone which will be used to provide images to support damage assessments and relief planning.
Additionally, the USNS Burlington, an expeditionary fast transport ship from Joint Base Little Creek / Fort Story VA, arrived to support helicopter refueling operations.
As of 8:00 PM EDT on 23 August 2021, Joint Task Force (JTF) Haiti had conducted 311 missions, evacuating 425 people, and delivered over 136,000 lbs of vital aid.
In next week's issue we'll update JTF-Haiti operations and have an interview with Rear Admiral Davids.