With November's presidential election drawing near, and Florida's voter registration deadline ending as of October 6, local residents have been
inundated with ads, online pop-ups, calls, and even texts reminding them to register and vote accordingly.
Despite all of these methods, there are far more creative ways to entice locals to engage in this civic duty.
This past weekend, the South Dade NAACP Environmental and Climate Justice Committee -- along with the Miami-based non-profit art organization HOPE Murals organized that very thing -- the first air-purifying mural.
Located in West Perrine, at Bell's Short Stop on 17452 SW 104th Avenue, the mural encourages those in the community to vote, and also educates on black election history.
Executive director of HOPE Murals and artist, German DuBois III, explained the main narrative of the public painting is highlighting the value of voting in all elections; whether for presidents, school board members, mayors, or other elected positions.
"It's important to be able to know what their platforms are, and hold them accountable for their platforms and for their position as leaders," said DuBois.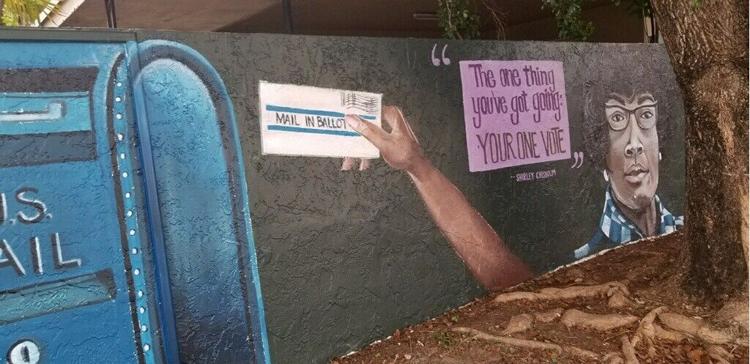 Another aim of the artwork, DuBois said, is to celebrate the 100th anniversary of the Women's Suffrage movement which allowed women the right to vote in 1920, and Shirley Chisholm; the first black congresswoman in 1968, who four years later became the first black candidate for U.S. presidency in 1972. 
"Shirley Chisolm I think is one of the most unsung, unknown heroes that was ahead of her time, and what she stood for will be highlighted," DuBois said, "because it connects not only the Suffrage movement, but the fight for women's rights, the fight for equality as a woman of color."
DuBois also discussed the significance of adding Chisolm to this painted piece's commentary on voting.
"It's highlighting women's capacity to not only vote, but lead our nation in elected positions," said DuBois.
Alongside HOPE Mural's artist, 'Yara', DuBois also noted the necessity of having her be the sole executive artist on the mural.
"It was important for us to have female artists working on this to
celebrate the power of women," DuBois said, "their leadership, their skills, and their talent."
And as with this historic artistic venture, the paint Yara and DuBois used for it is also just as remarkable as the project itself.
The non-toxic, eco-friendly paint called 'Smog Armor' uses minerals within it to capture air pollutants, thus purifying the air in such a way that every gallon of paint is equivalent to planting one adult tree.
This is the main reason why Smog Armor reached out to HOPE Murals to partner on using their products, as their aim is to eliminate air pollution, and have an anti-pollution mural in every U.S. city, then eventually around the world.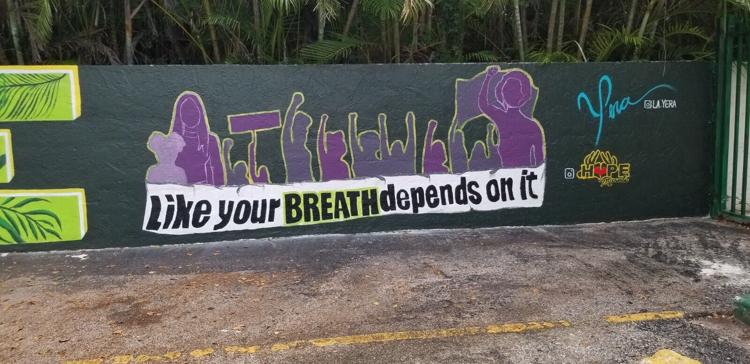 "The goal is to be able to raise the bar and use paint that not only created visual impact and stimulating messages, but then could also be safe not only for the artist, but the individuals in the community," DuBois said. "Why not use this, why use anything but this?" 
The paint lasts for up to five years, and as DuBois calls himself and other artists with HOPE Murals 'Artivists' who combine artistry and activism, he wanted to use it in public spaces like this one to foster positive change and also educate.
"[We] use murals, particularly, public art to not only create a beautification effect in an area, but also be educational about the importance of air
pollution," said DuBois.
South Dade Environmental and Climate Justice Chairwoman Pamela Brown-Eyo was just as excited about this innovative partnership as well, while also signifying the power of it.
"I encourage everyone to come and see the mural," Brown-Eyo said. "It is a call to action, a masterful art piece, and it reduces air pollution."
For more information on HOPE Murals, please visit their website at www.hopemurals.org or contact them at 646-302-0163.