Food has long been a symbol of hospitality, even the plainest foods when
enjoyed with family and friends can take on a feeling of warmth and
happiness. With Spring just around the corner, thoughts of a juicy pan roasted Lemon Chicken came to mind. This recipe is simple to prepare and you will want to repeat this classic dish often. Top it off with these individual fruit
parfait's that can be made the day before your serving time. The lemon curd blended with the whip topping makes this dessert "Berry" special. Enjoy!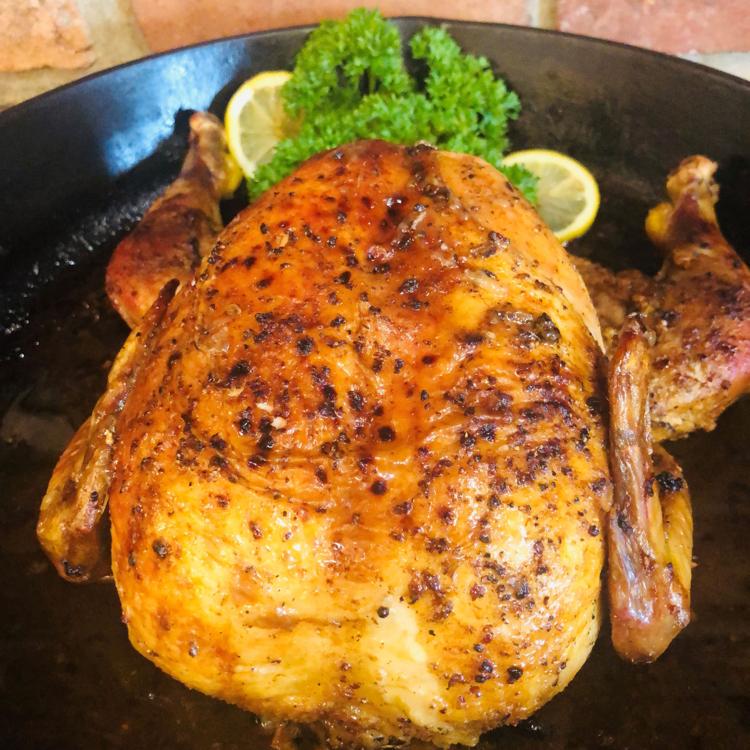 Pan Roasted Lemon Chicken
1-3 to 4 pound whole chicken
2 teaspoons minced garlic
1 whole lemon sliced
3 teaspoons salt
2 teaspoons black pepper
3/4 cup melted butter
Set oven 425 degrees. Wash and dry chicken. Cut chicken between leg and
breast to cook evenly. Legs should lay flat on pan. (See finished picture below).
Sprinkle chicken inside and out with salt, pepper, and garlic. Slice lemons and place in bottom of cast iron skillet or roasting pan. Place chicken on top of lemons. Drizzle melted butter evenly over chicken. Bake uncovered 50 minutes or until golden brown.
Serve with a green salad. Great recipe for a low calorie dinner.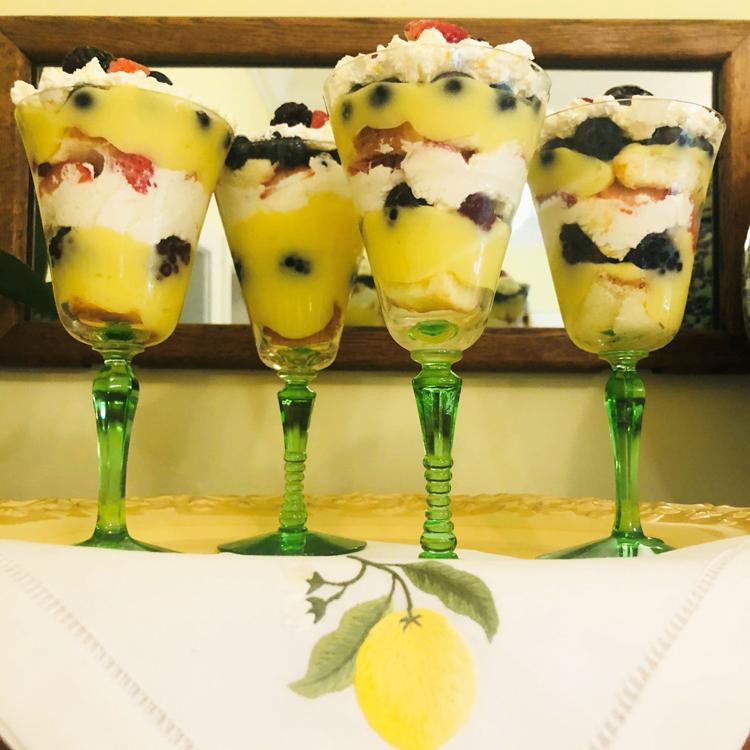 Lemon Berry Trifle
1 purchased Butter Loaf Cake or homemade pound cake cut into small chunks
1 jar lemon curd (8) ounce
1 (8) ounce carton cool whip
1 small package vanilla pudding mixed with
2 cups cold milk
1 pint strawberries cut into slices
1 pint blackberries
1 pint blueberries
- may substitute with raspberries
Blend lemon curd and cool whip together ... set aside. Mix together pudding and milk , refrigerate until set. Place small chunks of cake in parfait glass. Repeat with layers of fruit and lemon curd cool whip mixture.
Tip: This parfait can be made in a large trifle bowl to serve for a crowd instead of individual servings.