Pumpkins, ghosts, witches, spiders, and of coarse Trick or Treat is what we all associate with Halloween. Lots of candy, running thru our neighborhoods and spending time with our family and friends make this day very memorable. Coming back and counting our treats we are all hungry for traditional Halloween foods to snack on. Putting a twist on this Chili recipe makes this dish very ghoulish for your little goblins.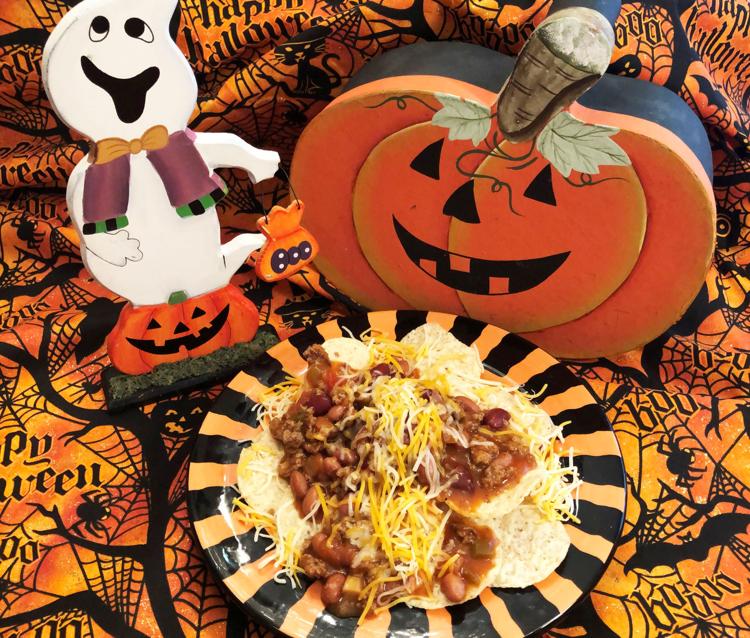 Chili Cheese Spiderweb Nachos
2 tablespoons vegetable oil
1 pound ground beef, chuck or sirloin
1-15 ounce can pinto beans not drained
1-15 ounce can kidney beans , not drained
2-15 ounce cans chili beans, not drained
I-15 ounce can crushed tomatoes
2 tablespoons chili powder( add more if needed) 1 teaspoon salt
1/2 white onion chopped
1 package of Nacho chips
1 package of shredded cheese
Heat oil, sauté beef and onion until evenly browned. Add all other ingredients simmer on low for 20 to 30 minutes stirring occasionally.
Place chips on plate or large platter. Spoon chili on top. Sprinkle cheese on chili and chips making spider web effect. Serve to all of your ghost and witches!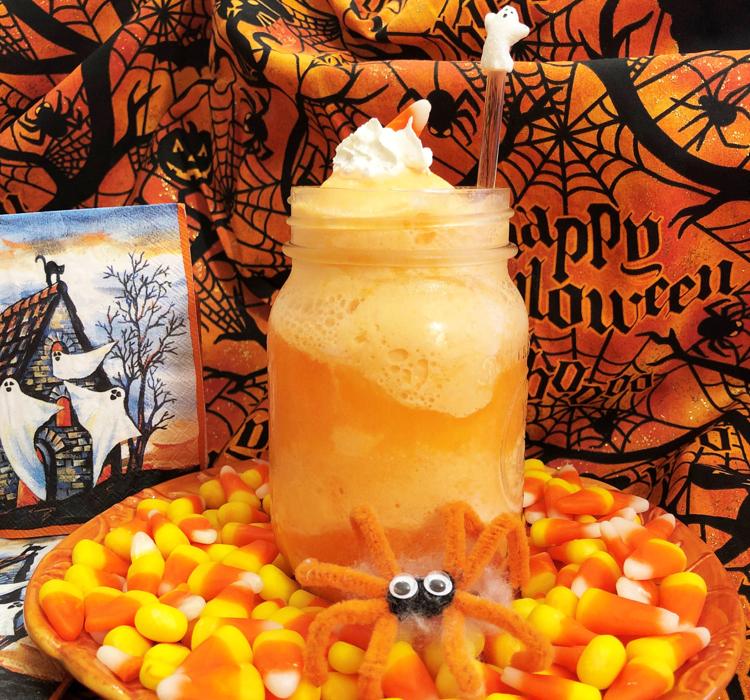 Halloween Orange Sherbet Floats
Small or medium size mason jars
Orange Sherbet or you can use vanilla ice cream.
Orange Soda
Whip cream
Straws
Scoop Sherbet into chilled jars and pour soda on top. Garnish with whip cream and candy corn. Jars may be filled with Sherbet or ice cream and frozen in advance. Just pour orange soda on top when ready to serve.
Eyeball Pumpkin Cupcakes
Makes 24 muffins
Preheat oven 350 degrees
2 cups all purpose flour
1 and 1/2 cups white sugar
3 large eggs
2 teaspoons baking powder
2 teaspoons baking soda
1 teaspoon cinnamon
1cup vegetable oil
1 can Pumpkin purée
Beat eggs, sugar. Add oil, purée, mix well. Add flour, baking powder, baking soda, and cinnamon. Mix and pour into paper lined muffin pans. Bake 350 degrees for 20 to 25 minutes. Cool and frost with cream cheese frosting. 
Cream Cheese Frosting
12 ounces cream cheese
3/4 cup butter
2 1/2 cups Powdered sugar
1 tablespoon vanilla extract
Mix together cream cheese and butter until smooth. Add powdered sugar and vanilla mixing well. Frost cupcakes. Decorate with edible candy eyeballs.
Tip: The Chili, cupcakes, and floats can be made well in advance so you have plenty of time to enjoy your scary night!!