When Fall  comes around every year it seems like there are so many recipes that we all have and want to share that are delicious desserts. Thinking about the upcoming holidays, we all like to prepare desserts that can be made in advance and even can be frozen. Our two recipes below are just the ones that are not only easy to make, but that everyone will enjoy. You will be wanting to share these holiday recipes with your family and friends for sure. The Pumpkin Cheesecake has a little twist on it. It is made in a 13 x 9 pan and cut into squares. Top it off with some whip cream and a sprinkle of cinnamon on top. Our Pumpkin Roll recipe is different, yet still easy to put together and an eye appealing treat to serve. 
Pumpkin Cheesecake
1 (16) ounce package pound cake mix
I use Betty Crocker brand)
3 eggs
2 tablespoons butter melted
1 teaspoon cinnamon
1 teaspoon nutmeg
1 (8 ounce)package cream cheese, softened
1 (14 ounce) can condensed milk
1 (15 ounce) can pumpkin
1 cup chopped pecans
Preheat oven to 350°. Grease and flour a 13 x 9" pan. Combine cake mix, melted butter, one egg. Mix until crumbly. Pat into pan and set aside. With mixer beat cream cheese, condensed milk, two eggs, pumpkin,
1 teaspoon cinnamon, 1 teaspoon nutmeg. Mix well and pour over crumbly cake mixture in pan. Sprinkle top with nuts. Bake for 30 to 35 minutes. Cut into squares when cooled and top off with fresh whipped cream and a sprinkle of nutmeg or cinnamon on top. Store in refrigerator. Delicious!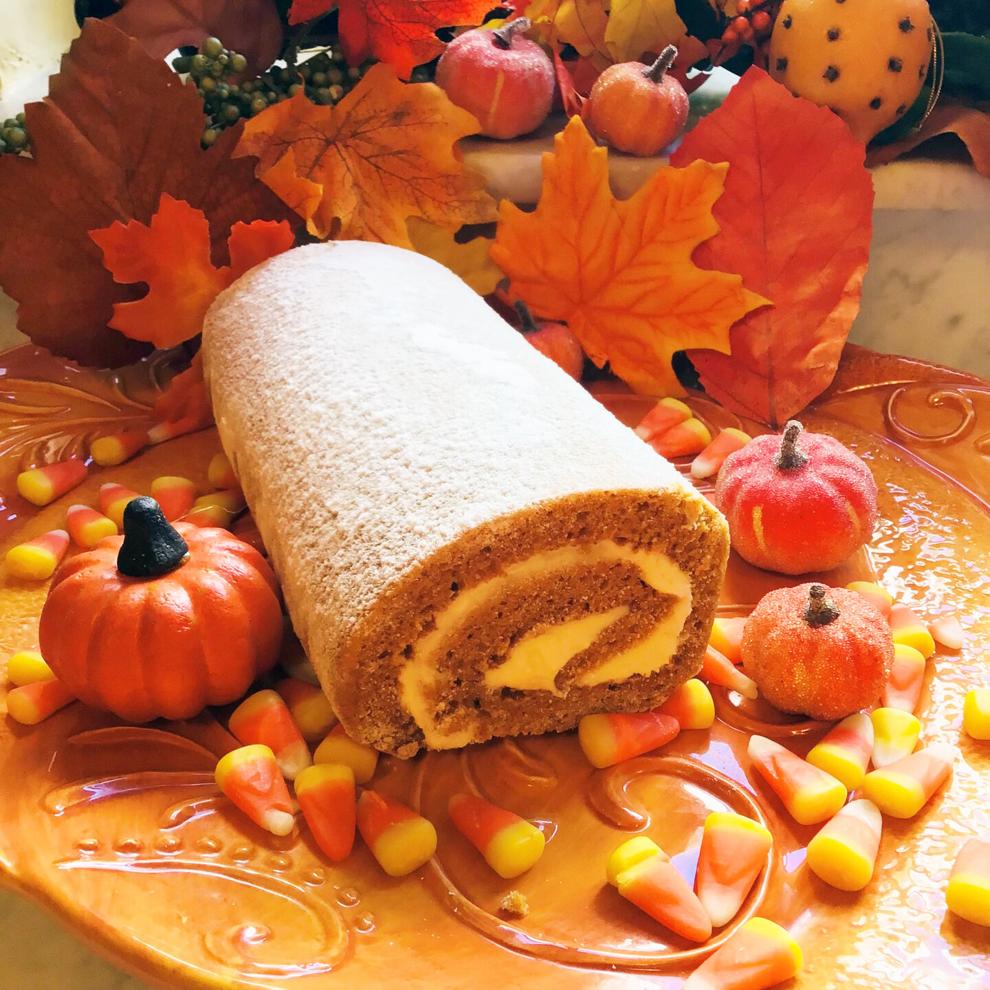 Fall Pumpkin Roll
For Cake to roll:
3/4 cup all purpose white flour
1/2teaspoon baking powder
1/2 teaspoon baking soda
1/2 teaspoon cinnamon
1/2 teaspoon nutmeg
Three large eggs
1 cup white sugar
2/3 cup pure packed pumpkin
Cream Cheese Filling:
One 8 ounce package cream cheese
1 cup powdered sugar
6 tablespoons butter
1 teaspoon vanilla extract
1/2 cup powdered sugar to sprinkle on towel
Sprinkle a thin cotton kitchen towel with 1/2 cup of powdered sugar. Set aside.
Preheat oven 375°. Grease a 10 x 15" jelly roll pan lined with wax paper. Also grease and flour wax paper. Combine flour, baking powder, baking soda, cinnamon, nutmeg. Set aside. With a mixer mix together white sugar and eggs and pumpkin. Stir flour mixture into pumpkin mixture. Mix well. Pour into prepared 15 x 10" pan. Bake for 13 to 15 minutes or until cake test done in center. Remove cake from oven and loosen edges around entire cake with knife. Turn cake out on prepared kitchen towel that has 1/2 cup powdered sugar on it. Remove wax paper. Roll up cake and towel together, starting with the narrow end first. Cool seam side down.
Beat together cream cheese, 1 cup powdered sugar, butter and vanilla extract in a bowl. Carefully unroll cake. Spread cream cheese mixture over cake. Reroll cake without the towel. Wrap in plastic wrap and chill for at least one hour. Sprinkle top with powdered sugar before serving if desired. This sounds like a lot of steps but it is worth the time and effort.
It's wonderful and pretty to serve.