Getting ready to Spice up for a Happy Holidays. We all look forward to cooking and baking something special at this wonderful time of year.
However, with everyone's busy schedules, children still at home with school work, and working from home, it's hard to find time for our holiday baking. Our Sugar and Spice cake is a wonderful quick cake you can put together easily. You can serve it for breakfast, lunch, or even as a drop off for that special friend.
It is delicious warm right out of the oven, or chilled. Another holiday goody to share, is our Walnut Tarts. These goodies can be assembled to drop off as a holiday treat or frozen for later use. Everyone seems to enjoy them, and they are so simple to make.
You can use either walnuts or sometimes I even use pecans, whatever you have on hand.
Tie up either of these recipes with a festive bow and make someone's holiday special.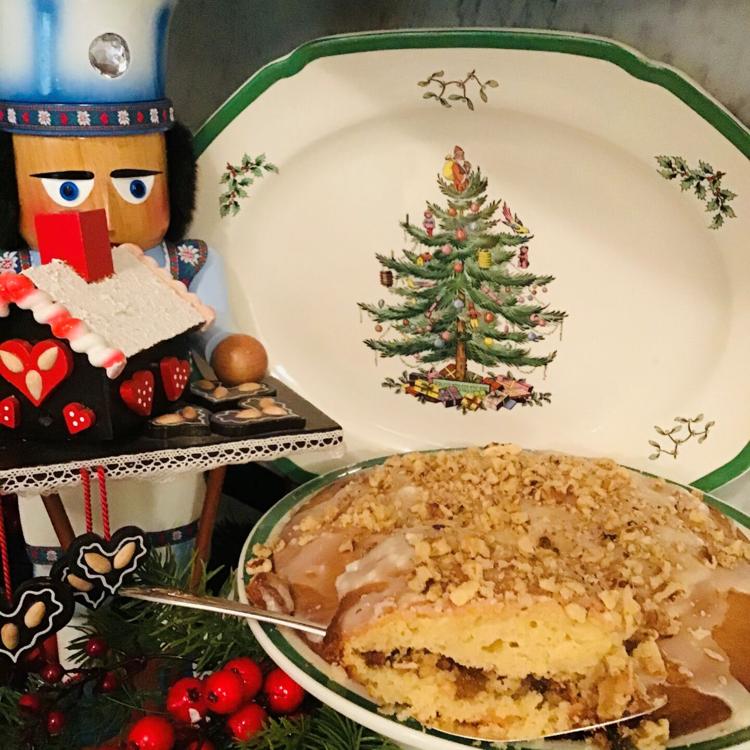 Sugar and Spice Cake
1 cup brown sugar
1/2 cup oil
Two eggs beaten
1 teaspoon vanilla extract
1 cup sour cream
2 cups self-rising flour
1 cup white raisins
1 cup, chopped nuts - I used sliced almonds in my recipe however you may substitute pecans or walnuts
1/2 cup white sugar
1 teaspoon cinnamon
1/2 teaspoon nutmeg
Mix oil, brown sugar and eggs; beat well. Stir in vanilla extract and sour cream. Add flour and mix well. Spread half of batter in a greased 9 inch pan and sprinkle raisins over. Mix together white sugar, spices and nuts and sprinkle over this. Spread remaining batter over it. Bake at 3:50° for 40 minutes or until done.
Glaze for top: in a sauce pan on stove top melt 1 tablespoon butter, stir in 1 cup powdered sugar, 2 tablespoons milk ,1 teaspoon of vanilla extract until sugar is blended.Pour over top of warm cake and sprinkle with 2 tablespoons of chopped nuts.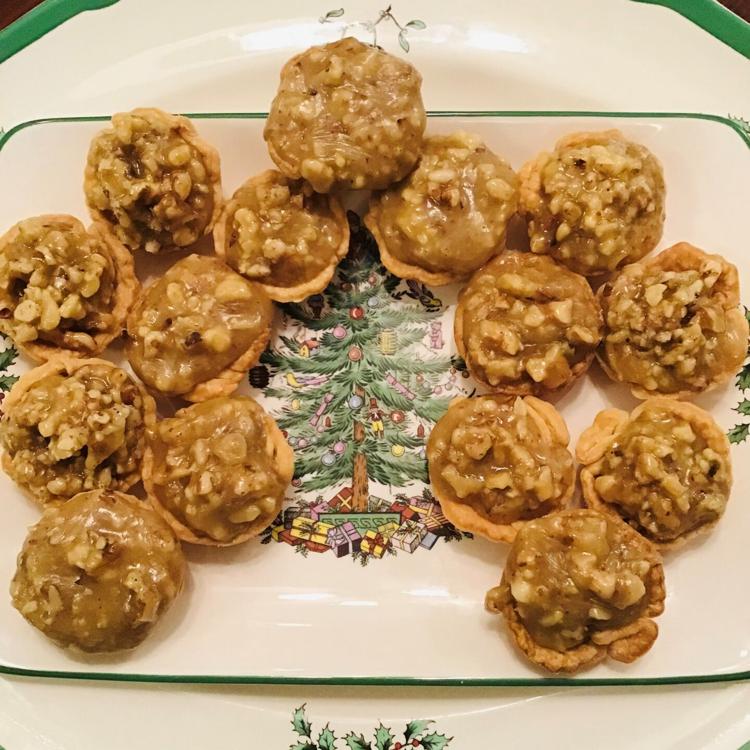 Walnut Tarts
One package ready-made piecrust rolls
Roll open on cutting board and cut with round cookie cutter. Press into ungreased mini muffin pans. Prick bottoms with fork. Bake at 400° for 10 minutes.
Note: one roll makes 10 to 12 pastry shells.
Filling for tart shells
1/2 cup butter
1/3 cup dark corn syrup
1 cup powdered sugar
1 cup chopped walnuts or pecans - for this recipe I used walnuts
In sauce pan on stove top mixed together melted butter, dark corn syrup, and powdered sugar. Bring to a full boil. Stir in chopped nuts. Removed from burner from burner and spoon into baked shells. These are so delicious, easy to make and something you can drop off as a gift or just keep them to serve to your family and friends.
Tip: Most stores have their cooking supplies and baking items on a display in the front of the store. Make a list and try to pick up several of the items on your list so you'll have them when it's time to bake those special treats.
Baking is one of the best parts of the holiday's sharing and spreading joy with friends and family.