It's Salad Season for a warm weather supper. Toss together this fresh, flavorful Buffalo Chicken Salad any night of the week for your hungry family. Our creamy homemade Ranch Dressing can be made up to two hours in advance and stored in your refrigerator for a week. Great for dipping raw vegetables or chips as a snack. Delicious Blueberry dessert is super easy to prepare by using the simplest of ingredients. An ideal dessert to compliment your main dish recipe.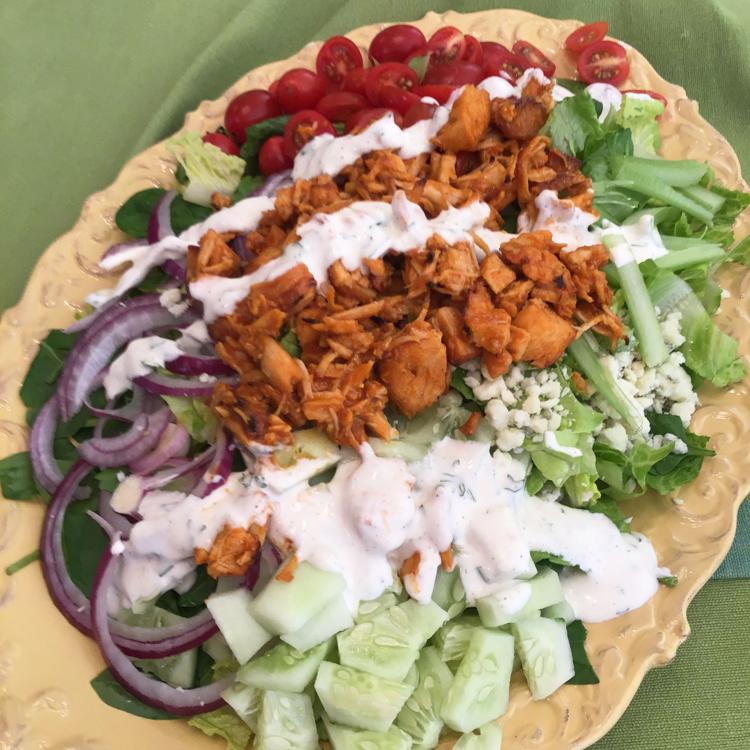 Creamy Ranch Dressing
1/2 cup Sour cream
1/2 cup mayonnaise
1/2 cup buttermilk
1 teaspoon minced garlic
1 teaspoon salt
1/2 teaspoon pepper
2 tablespoons chopped chives
2 tablespoons chopped parsley
In a bowl whisk together sour cream,
mayonnaise, and buttermilk.
Add remaining ingredients. Whisk well. Chill
Chicken for Salad
3 chicken breasts cooked and cut into bite size servings. Set aside.
Sauce
1 cup buffalo sauce
1 teaspoon garlic powder
2 tablespoons honey
Juice of 1 lime or lemon
Whisk together all of sauce ingredients.
Toss over cut up cooked chicken bite size servings. Chill for 30 minutes.
Place chicken on sheet pan and broil lightly until slightly glazed. Serve over Salad.
For Salad
4 cups Romaine greens
2 cups Spinach greens
1 cup cherry tomatoes
1 cucumber sliced
1/2 red onion sliced
1 stalk celery sliced
1/2 cup blue cheese crumbled
To put together Salad: in a large container, toss all salad ingredients. Top off with chicken and drizzle with dressing and more blue cheese if you like.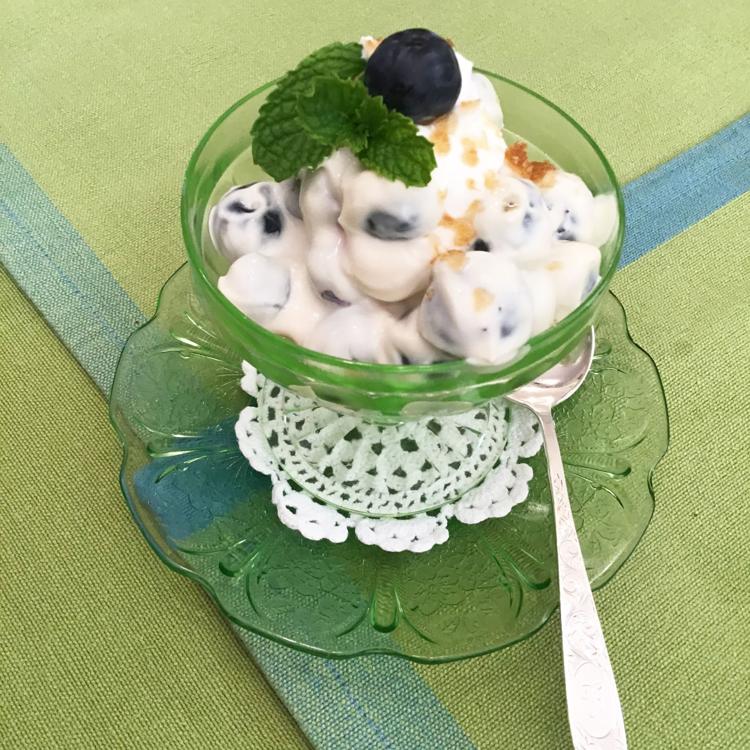 Delicious Blueberry Dessert
2 cups fresh blueberries washed and dried
1 cup sour cream
2 tablespoons brown sugar
Mix together sour cream and brown sugar. Fold in blueberries and serve in small dish or compote. Garnish with a dollop of whip cream and a sprig of mint. Chill before serving. Can be made earlier in the day. Light and different!
Tip: These are super recipes for our Sunny Days to come.