With Summertime here we are all looking for a scrumptious no fuss desserts to serve in our homes or to take to a festive function. These below  are easy desserts and are ready in no time. They are made with ingredients you probably have on hand. Even freezing them is an option for you to serve at later time. No fuss individual cheesecakes are easy to prepare and really delicious. You can top them off with any topping of your choice or serve them plain. Fresh fruit such as blueberries,raspberries,strawberries, peaches, and mangoes would be delicious. Pictured below is a raspberry sauce that is easy and fresh. White Cake is good to have on hand for any drop by friends that Summer may bring. 
No-Bake Cheesecakes
Graham Cracker Crust
2 cups graham cracker crumbs
1 stick butter, melted
1/3 cup light brown sugar
Filling
2- (8) ounce packages cream cheese
1/3 cup white sugar
1 teaspoon fresh lemon juice
2 tablespoons sour cream
1 cup heavy whipping cream whipped
1/2 teaspoon vanilla extract
Line muffin pans with cupcake liners. This recipe make 18 individual ones.
Set aside. Mixed together graham cracker crumbs, melted butter, and
brown sugar. Scoop one and a half to 2 tablespoons of crumbs into each paper liner. Press crumbs down with end of spoon. Bake crumbs in oven 350° for
five minutes. This is optional however baking it secures a tighter base for the crumbs. Remove from oven and cool. In a bowl whip 1 cup heavy whipping cream until stiff and set aside. In a bowl mix together cream cheese, sugar, lemon juice, sour cream and vanilla extract. Gently fold in whipped cream to cream cheese mixture. Spoon mixture individually on top of crumb base. Cool and top with topping of your choice.
Raspberry Sauce
1 cup sugar 1 cup water
2 tablespoons cornstarch
1 cup fresh raspberries or frozen raspberries
*May substitute blueberries, or blackberries.
In a sauce pan combine sugar, water, cornstarch. Bring to a slight boil and stir until thickened. Add in raspberries and cook until fruit is mixed in well. Cool and spoon over individual cheesecakes. I have found this recipe works better by chilling these cheesecakes for up to three hours or overnight if possible before serving.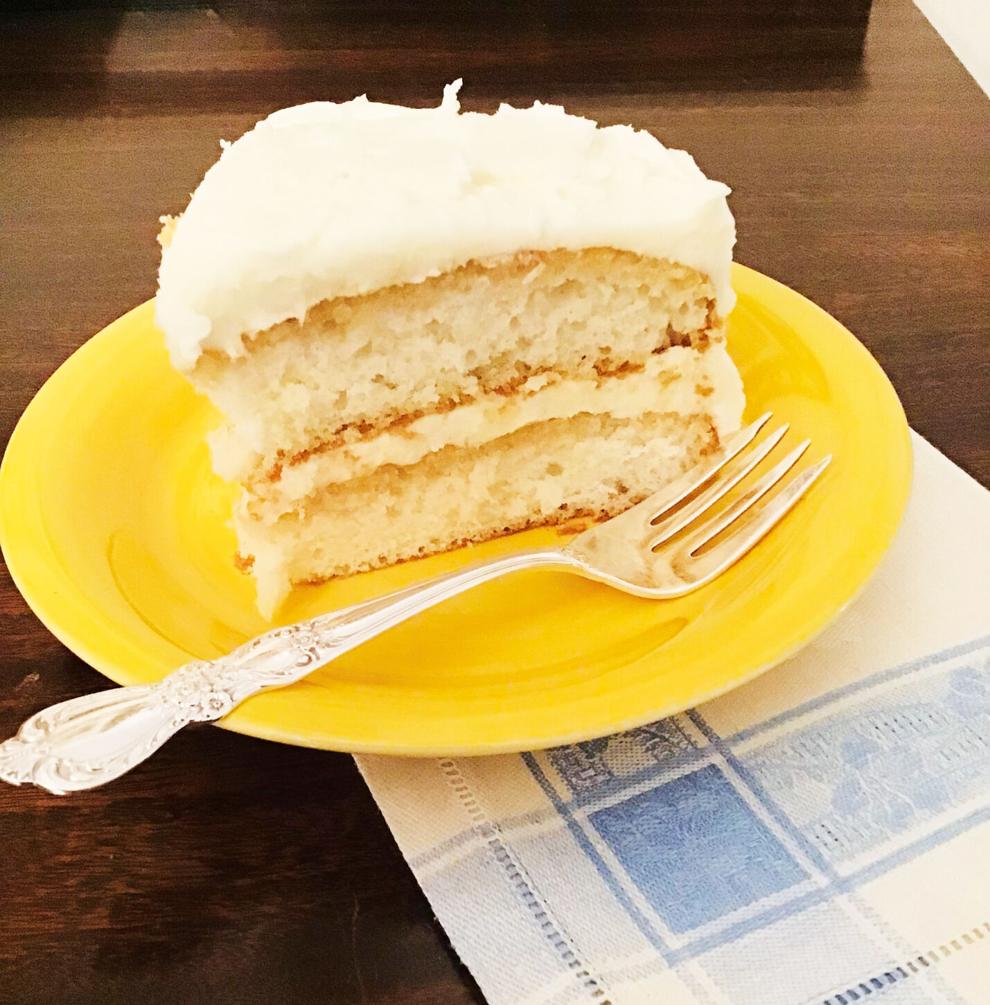 Easy Summertime White Cake
2 1/4 cups all purpose flour sifted
1 teaspoon baking powder
1/2 teaspoon baking soda
1/2 cup crisco shortening
1 3/4 cup white sugar
Four extra large egg whites
1 1/3 cup whole buttermilk
Preheat oven 350°. Grease and flour 2 (9) inch cake pans. Beat together shortening, sugar, and vanilla extract. Add egg whites beating well. Gradually add flour, baking powder and soda alternately with buttermilk mixing well. Pour into prepared pans and bake 25 to 30 minutes until center is done. Cool and frost cake with frosting.
White Creamy Frosting
3/4 cup butter
1 1/4 ( 8- ounce) packages cream cheese
1 1/2 (16- ounce) boxes powdered sugar
1 teaspoon vanilla extract
With mixer mix butter, cream cheese until well combined. Gradually add inpowdered sugar and vanilla extract. Mix well until spreadable.
Tip: most recipes work better when ingredients are brought to roomtemperature - eggs, butter, buttermilk, cream cheese, to ensureyour batter does not break or curdle.