It's the beginning of June, Summertime Living, and a time to be cool and eat indoors with family. Our special menu is Summer Tomato Mozzarella Salad, and Cheesy Chicken Parmesan with Herb Bowtie Pasta. This quintessential chicken is made with lightly cheese breaded crust, topped off with a delicious sauce and a topping of melted cheese. Now, with this easy recipe, you can bring a taste of a popular Italian classic dinner to your own kitchen table this week.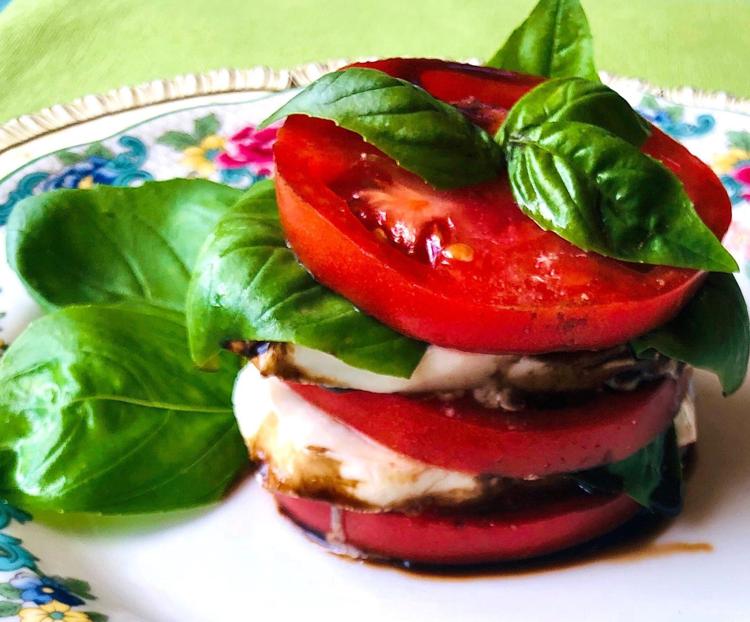 Summer Tomato Mozzarella Salad
4 to 6 medium ripe tomatoes
1- pound fresh mozzarella cheese sliced Fresh basil
6 tablespoons balsamic dressing or balsamic glaze
Slice tomatoes and stack,  1 slice tomato then cheese then basil. Repeat until desired height. Drizzle with dressing. Can be made in advance and chilled until serving time.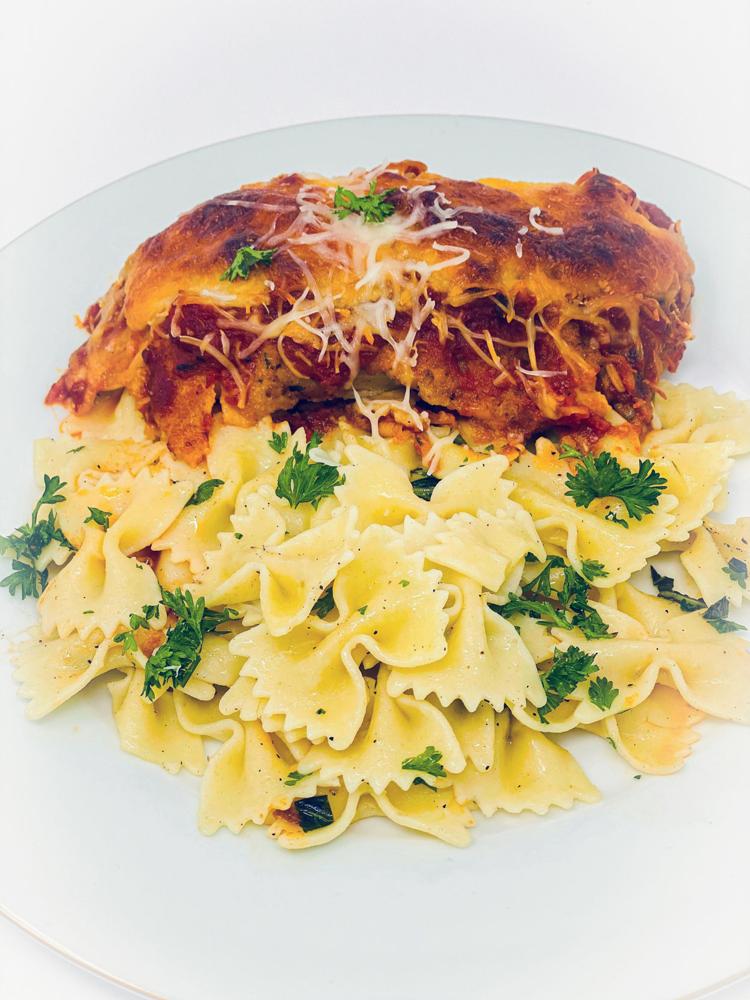 Cheesy Chicken Parmesan
4 chicken breast boneless skinless
1 cup flour mixed with 1/2 teaspoon salt and 1/2 teaspoon pepper
1 egg beaten
1 cup Italian breadcrumbs mixed with 1 cup fresh grated Parmesan cheese
2 to 3  tablespoons lite olive oil
4 cups Marinara Sauce homemade or Store bought jar works also
2 cups shredded Mozzarella cheese
Parsley or Basil for garnish
Dredge chicken in flour mixture, then egg, then breadcrumb and cheese mixture. Heat oil in non stick skillet. Brown chicken turning once 3 to 4 minutes per side. Place 1/2 of sauce in 13x 9 pan. Place chicken pieces over sauce in single layer. Spoon on rest of sauce and top with cheese. Bake in 350 oven for 30 minutes or until nicely browned on top. Ovens may vary. Garnish with fresh parsley or basil.
Herbed Bowtie Pasta
1- 12 ounce package bowtie pasta
2 tablespoons olive oil
2 tablespoon butter
1 teaspoon salt
1/2 teaspoon pepper
2 tablespoon fresh parsley chopped
2 tablespoon fresh basil chopped
Cook pasta according to package directions. Drain well. Melt olive oil and butter in saucepan. Add salt and pepper. Add pasta and herbs. Toss lightly to combine herbs evenly.  Sprinkle with shredded mozzarella cheese if desired.
Marinara Sauce
2 tablespoons olive oil
1 finely chopped small onion
3 cloves minced garlic
28- ounce can crushed tomatoes
1/2 teaspoon oregano
1/2 teaspoon salt
1/2 teaspoon pepper
1 tablespoon fresh basil chopped
Heat olive oil,add diced onion, sauté until soft. Add garlic sauté 1 minute. Add crushed tomatoes ,oregano, salt and pepper. Simmer partially covered for 15 minutes. Stir in fresh basil.This recipe is a quick sauce to make if you do not prefer jar sauce. You may also use fresh crushed peeled tomatoes.