With Springtime time here I like to switch up as the season changes and try a new spring chicken recipe. Cooking a One pot skillet dinner is all about spring.
Just put it together, pop it in the oven and you are ready to serve a delicious meal.  Lemons and fresh herbs add an amazing flavor to this chicken. The secret to a juicy baked chicken breast is to cook it at a high heat over a short period of time to seal in the flavor. Top this dish off with our very Easy Drop Biscuit served with a side of butter and preserves of your choice. We cannot forget a Spring Homemade Ranch dressing for your salad made with our fresh local vegetables.
You will be in the Spring of enjoying so much flavor with these simple recipes!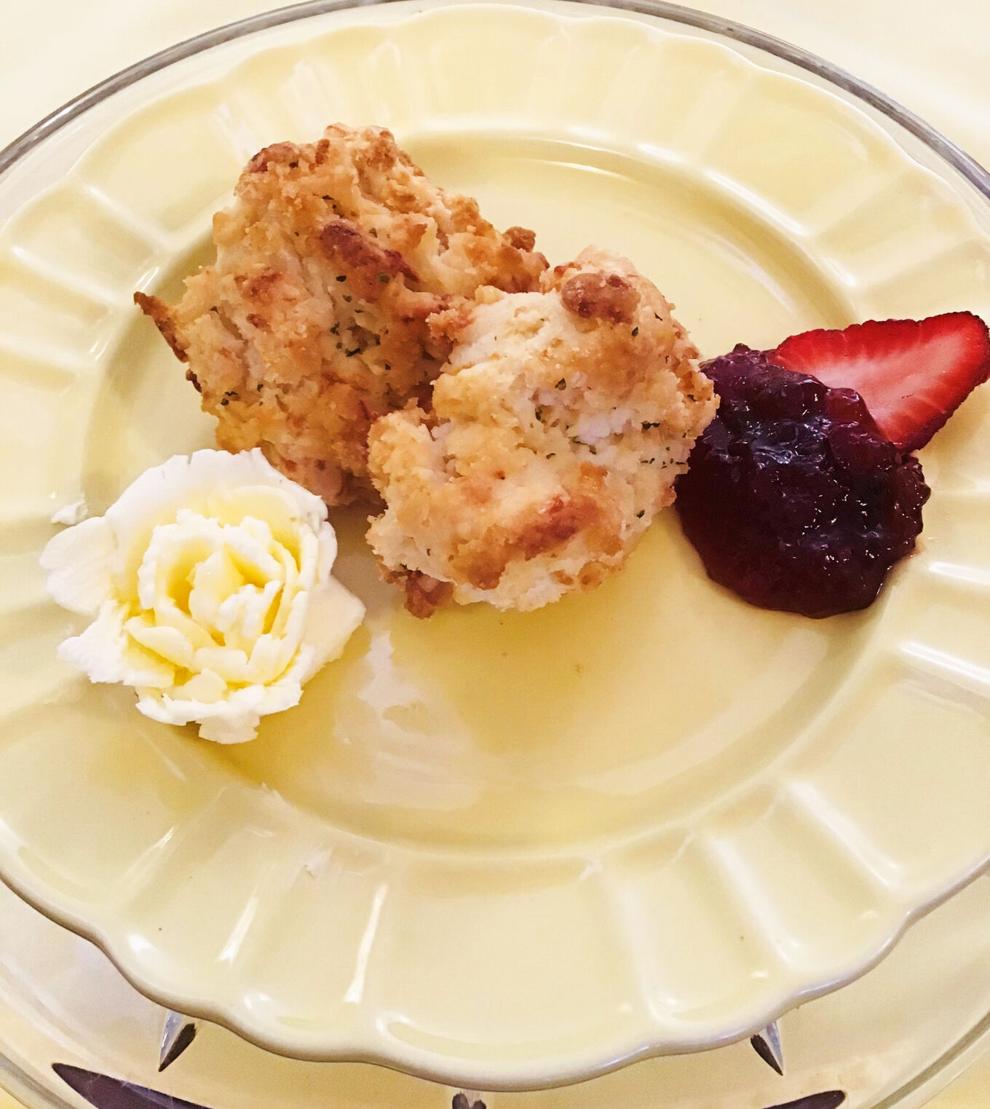 Easy Drop Biscuits (only 2 ingredients)
Preheat oven to 450°
2 cups self rising flour
1 cup heavy whipping cream
Line a baking sheet with parchment paper.  Sift flour in a bowl. Add in whipping cream.  Mix gently until combined. Drop dough by spoonfuls onto baking sheet. Bake 10 to 12 minutes.
You can also roll dough out and cut with a 2 inch biscuit cutter if you prefer. Add in a few chopped herbs for an herb drop biscuit or 1/2 cup shredded cheese of your choice for a cheese biscuit.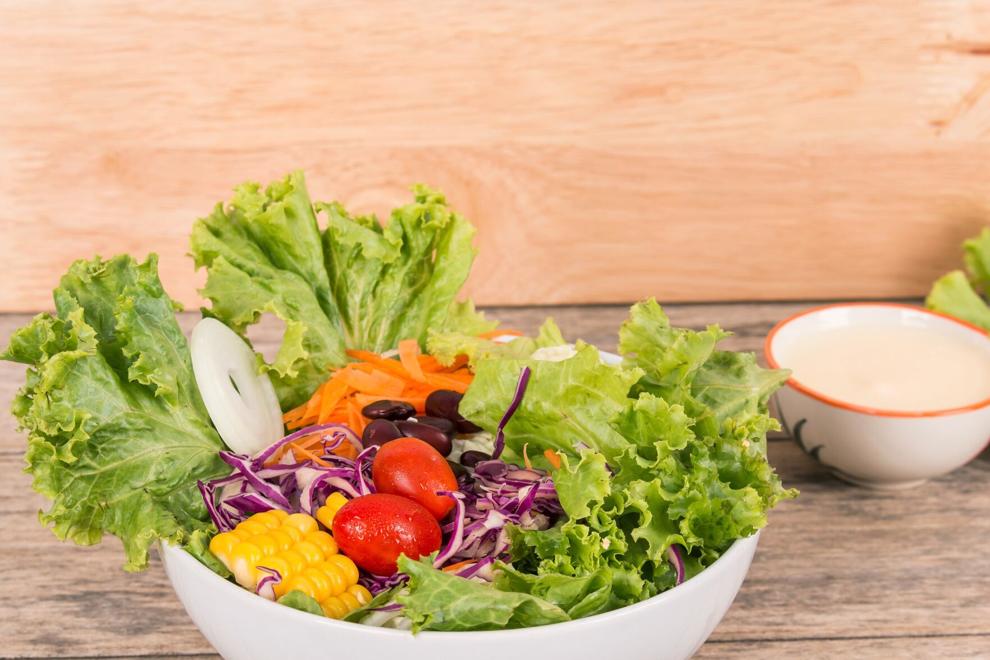 Nothing like a spring salad topped off with
Homemade Ranch Dressing
1 cup sour cream
1 cup mayonnaise
1 tablespoon lemon juice
1/4 cup fresh chopped parsley
1/4 cup fresh chopped chives
1 teaspoon chopped garlic
1 tablespoon light olive oil
3/4 teaspoon salt
1/4 teaspoon pepper
3 to 4 tablespoons whole milk (may add more until desired consistency)
In a blender or a processor blend all of the above ingredients. Chill at least 30 to 45 minutes before serving. This is a delicious dip for vegetables also. Fresh with no additives or preservatives in it.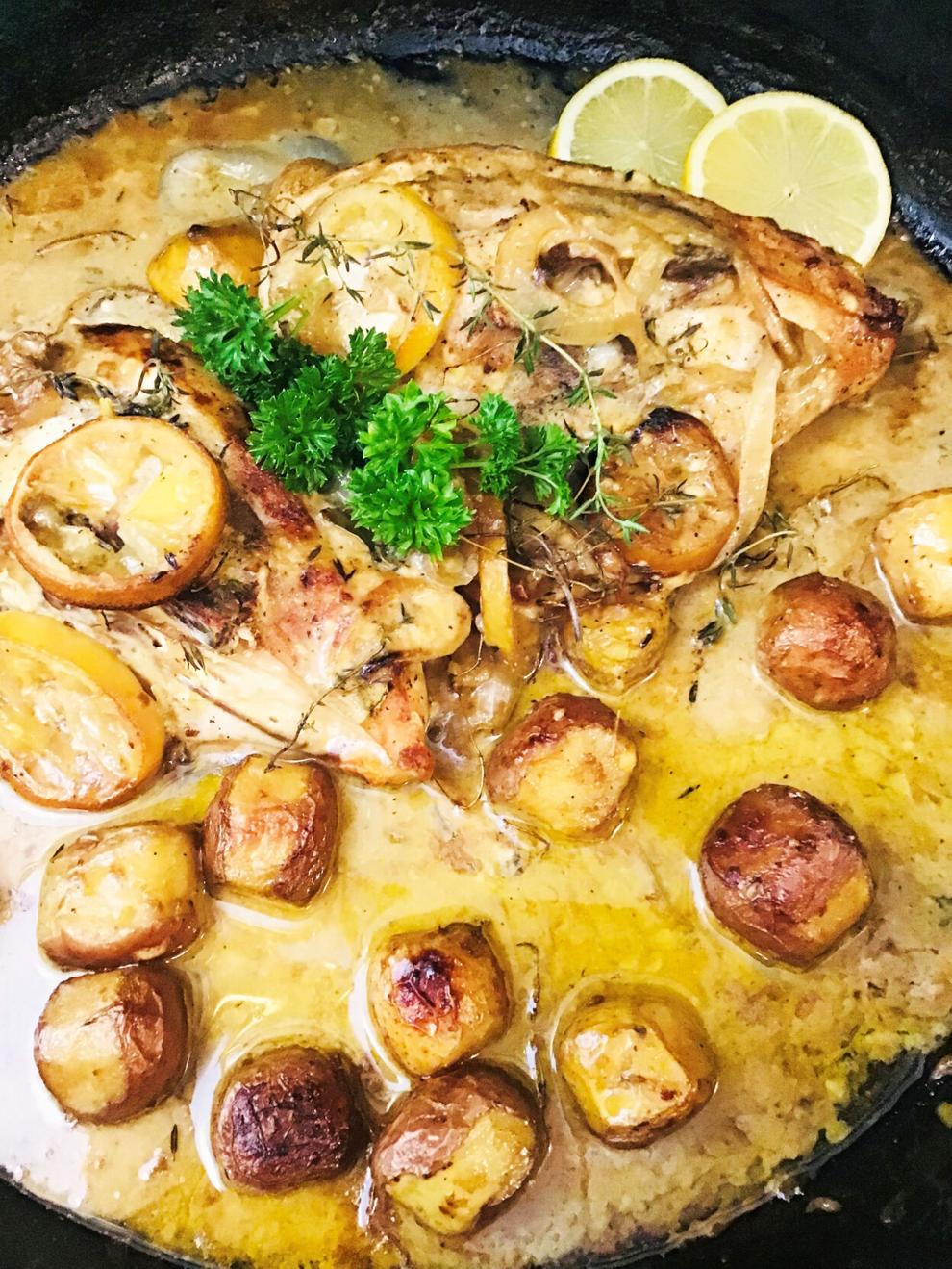 Lemon Herb Chicken
Preheat oven 425°.
4 chicken breast bone in
2 lemons washed and sliced
1 teaspoons kosher salt
1 teaspoon fresh ground pepper
1 white onion sliced into rings
3 to 4 whole bay leaves
4 to 5 sprigs fresh thyme
3/4 cup chicken broth
3 cups tiny new potatoes, partially peeled
Salt and pepper chicken breast.  In a roasting pan or cast-iron skillet lay half of the white onion rings on the bottom followed by several lemon slices placed on top of onions. Set chicken on top skin side down of lemon slices and onions.  Crumble bay leaves on top of chicken evenly and sprigs of fresh thyme. Place the rest of onion rings and lemon slices on top of chicken. Poor chicken broth in bottom of pan. Cover lightly with foil. Bake in oven for for first 30 minutes. Remove foil, sprinkle tiny new potatoes around chicken and continue to bake uncovered for 20 more minutes. The broth makes a delicious gravy that may be thickened if you like. You can also add carrots with the potatoes.  For a delightful change in flavors, substitute orange slices or lime slices instead of the lemons.