Fresh Springtime Salads are the best! Salad recipe ideas go way beyond just fresh lettuce. Everyone is always searching for a different salad option to serve.  Our recipes below will help you put a new twist on an everyday meal.
Of coarse, you cannot forget a delicious, healthy vegetable as a colorful look to add to the menu. It's Springtime!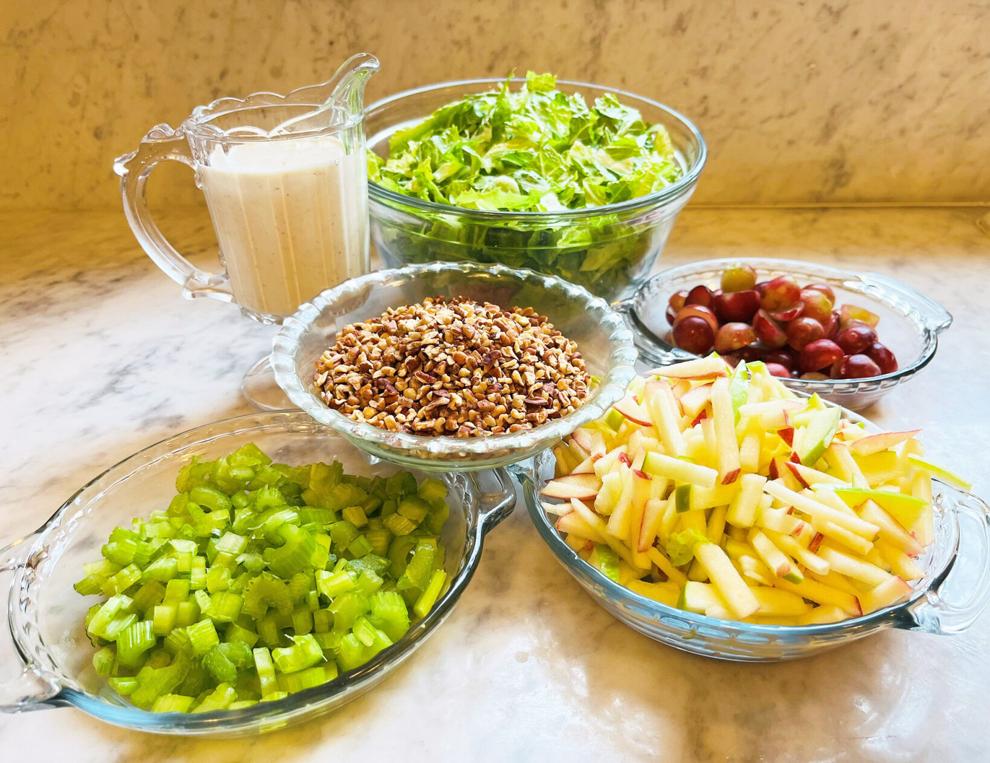 Spring Salad from the Waldorf Astoria Hotel
This salad is the most famous salad that was created at the end of the 19th century by the maître d' of the Hotel Waldorf Astoria. I have served it for years and I know that you will enjoy serving it also. Lot of chefs put a twist on it their way. I enjoy this one!
4 cups Boston or Romain lettuce chopped
1 cup chopped celery
3/4 cup of red seedless grapes cut in half
2 green apples and 2 red apples cut julienne style and
tossed in a little lemon water to keep them from turning brown.
1 cup chopped fine walnuts
Dressing:
1/4 cup mayonnaise
1 cup Greek plain yogurt
2 tablespoons fresh lemon juice
1 teaspoon Dijon mustard
1 tablespoon olive oil light
1/2 teaspoon salt
1/2 teaspoon pepper
Mix all of the above ingredients of the dressing in a bowl. Set aside. Mix together Lettuce, celery, grapes, apples drained, and walnuts. Toss with salad dressing right before serving. The salad can also be served with chopped up, cooked chicken. It is wonderful and very Spring!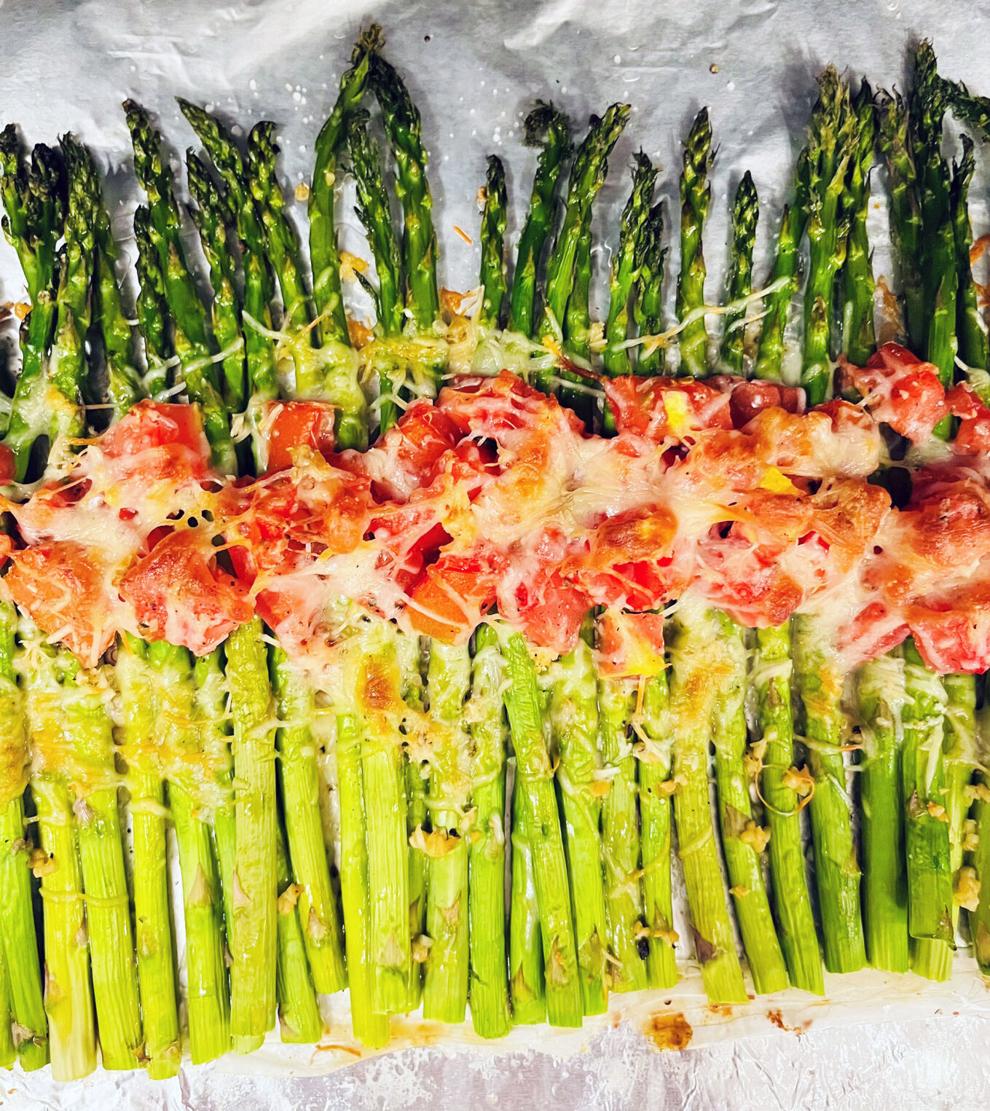 Roasted Tomato Parmesan Asparagus
One bunch of fresh asparagus
2 tablespoons olive oil
1 1/2 teaspoons minced garlic
1 teaspoon kosher salt or sea salt
1 teaspoon fresh ground black pepper
1 cup grated Parmesan cheese
2 medium red ripe tomatoes cut in chunks
Place asparagus on a baking sheet lined with parchment paper. Top with diced tomatoes, minced garlic, salt and pepper. Drizzle olive oil over all. Top with grated Parmesan cheese and bake 400° in preheated oven for 10 minutes. Check with a fork to test if asparagus is done.  Pictured are before and after of this colorful, delicious Springtime Vegetable.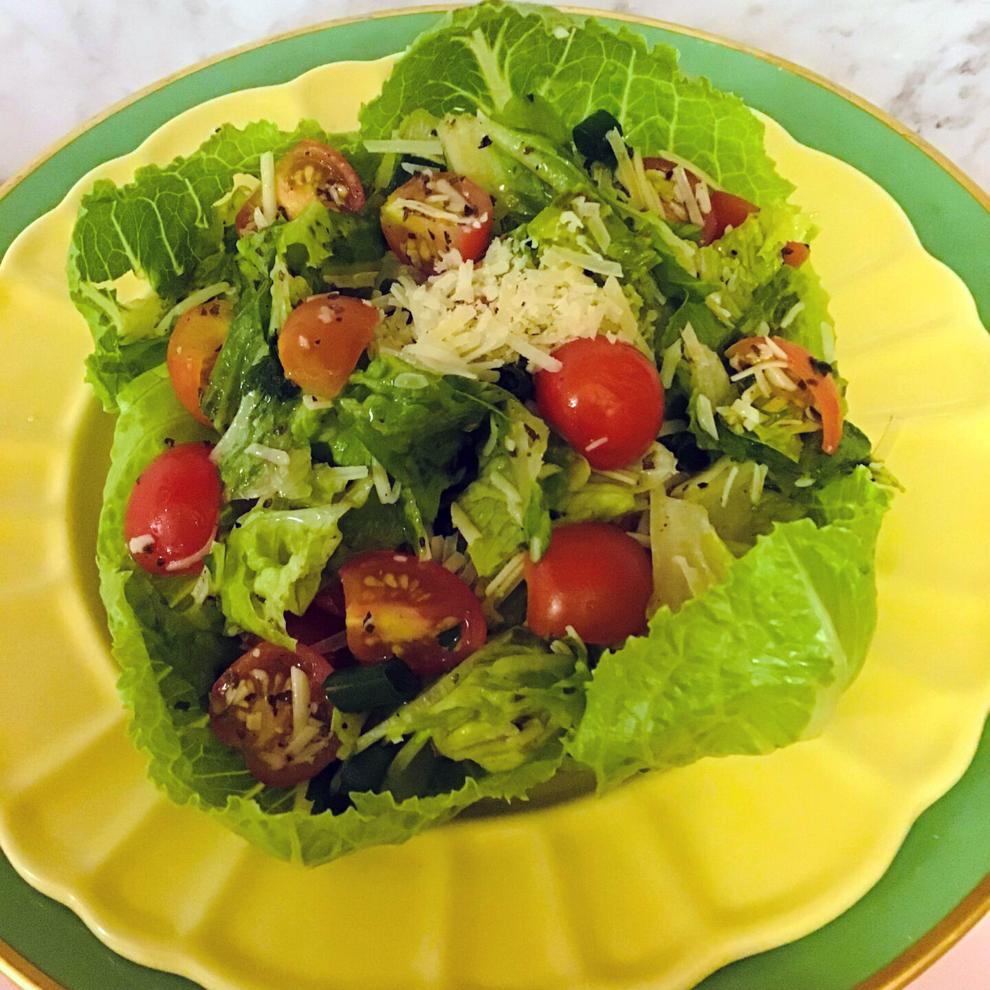 The Masters Famous Green Jacket Salad
This salad is served in Augusta at the Masters Golf Tournament every year. I have made it many times over the years and it is also delicious. The Green Jacket Salad is delightful served with steak, chicken, soup and sandwiches and it is delicious just to have for a quick lunch all by itself. Even great with pizza!
1 head of Iceberg lettuce or two heads of Romain lettuce, chopped (I use Romaine)
1 cup cherry tomatoes sliced in half
1 bunch of green onions, chopped
2 to 3 tablespoons grated Parmesan cheese
1/2 cup broken pita chips
Dressing:
3 tablespoons olive oil
2 tablespoons red wine vinegar
1 teaspoon chopped fresh parsley
1 teaspoon seasoned salt
1 teaspoon dried oregano
Whisk together olive oil, vinegar, parsley, seasoned salt, and oregano. Combine lettuce, tomatoes, green onions, Parmesan cheese, and pita chips in a large bowl. Add dressing to the bowl and toss to mix. Serve with a little extra sprinkle of Parmesan cheese on top.