We have all been there! What to serve as a side for a special meal or just for a week day dinner. It seems to be a dilemma for most of us.
One of our suggestions to compliment your entree is a wedge salad.
This side takes little effort and most of the ingredients in the salad dressing we all have on hand and are very easy to purchase. This dressing can be made in
advance and stored up to seven days in a glass container if refrigerated. Another popular side that we have served often is our Crusty Parmesan Tomatoes.  These tomatoes are delicious served warm or even chilled. With both of these recipes we always try to use red ripe local farmstand scrumptious tomatoes.
Wedge Salad with Zesty Honey Salad Dressing
One head iceberg lettuce, divided into six wedges
Eight mushrooms, sliced fine
Two medium or large red ripe tomatoes cut into wedges or diced smaller.
1 yellow pepper diced (sometimes I use green or red for extra color)
Arrange lettuce on plate divide mushrooms, tomato and peppers evenly onto lettuce wedge.
Zesty Honey Salad Dressing
10 ounces mayonnaise
1/2 cup vegetable oil
1/4 cup honey
1 teaspoon mustard
One very small onion, finely chopped
One pinch of parsley
Juice of 1/2 lemon
Two drops hot sauce
2 tablespoons chives, finally chopped
Mix all ingredients above with a processor until combined well. Drizzle dressing over lettuce wedges.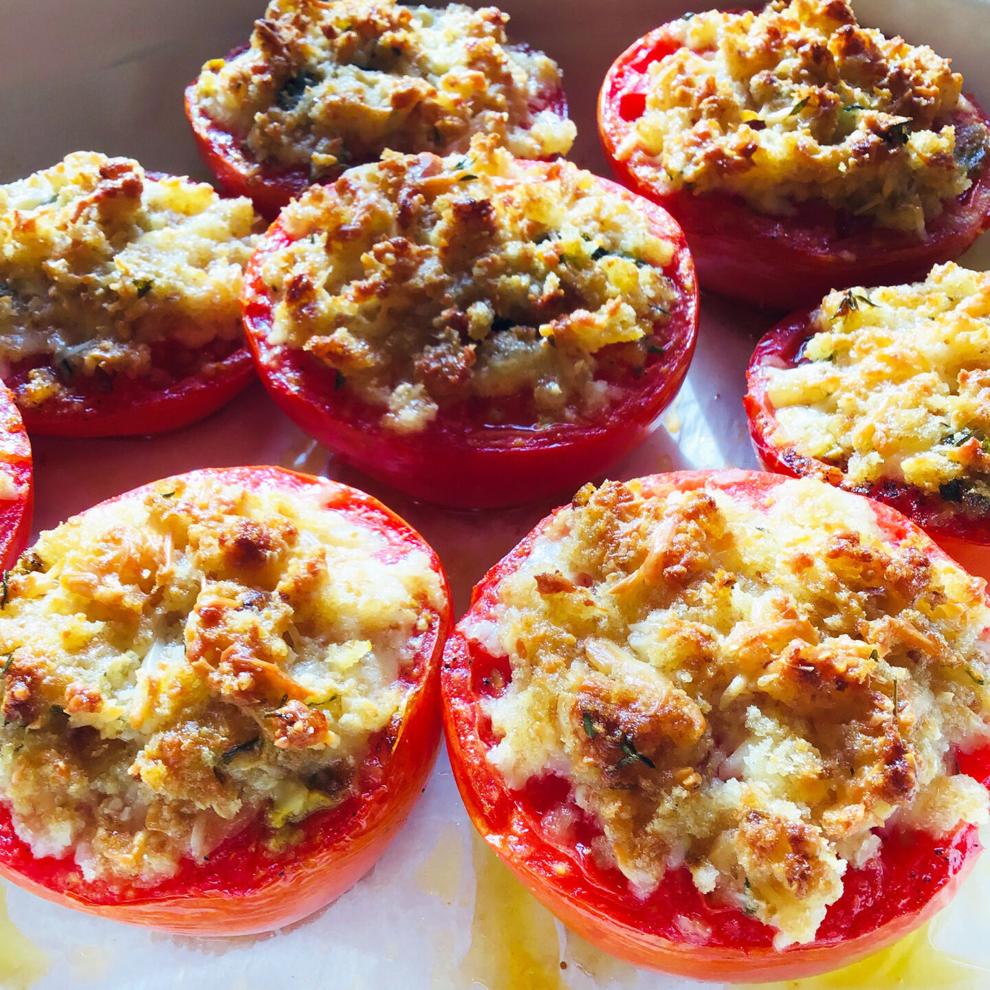 Parmesan Crusty Tomatoes
Four medium red ripe tomatoes
Dijon style mustard
Salt and pepper
6 tablespoons melted butter
1/2 cup seasoned breadcrumbs
1/2 cup grated Parmesan cheese
Cut tomatoes in half. Spread cut side lightly with mustard. Sprinkle with salt and pepper to taste.
In a mixing bowl combine melted butter, bread crumbs, and Parmesan cheese. Generously spoon crumb mixture on top of each tomato half.
Bake in a 350° oven until crumbs are brown and tomatoes are tender, about 20 minutes. Serve as a side dish for any meal.