During this time, putting home cooked meals on the table is challenging for all of us. So, why not put a little sparkle and spice to your everyday dinner? Love Burritos? Make your Summer complete with this great recipe starting off with a floured tortilla and delicious ingredients. These hearty burritos come together in one skillet or casserole for a quick dinner that's full of flavors and will make everyone satisfied and happy.
Enjoy this One dish meal with our no fail Sangria drink. It's full of fresh fruits, and will add a sparkling zest to this evening meal. We have also included a non- alcoholic option for this fruity drink.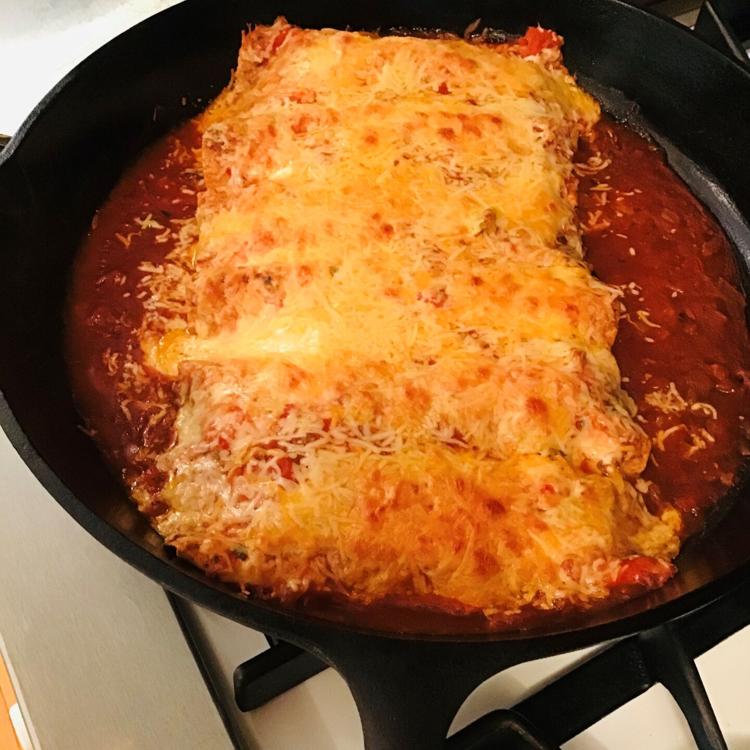 Skillet Burritos
1 tablespoon vegetable oil
1 pound lean ground chuck, round, or sirloin
1/2 cup chopped onion
One package original taco seasoning mix
1/2 cup water
One package flour tortilla burritos (8 inch)
1 cup refried beans from 16 ounce can or homemade
1 1/2 cups cooked yellow rice
2 cups Mexican cheese blend
1 can (10 ounce) enchilada sauce
1/2 Cup salsa homemade or store-bought
In skillet cook beef and onion in oil. Brown for five minutes. Drain. Stir in taco seasoning mix and water. Cook for three minutes or until thickened. Set aside. Place tortillas on worksurface. Down center of each tortilla, in order layer 1 tablespoon of refried beans, then 2 tablespoons of rice, 2 tablespoons meat, 2 tablespoon cheese making 4 inch long line down center of tortilla. Roll up burrito and place in oven proof skillet or casserole seam side down. Bake 25 minutes at 350 degrees. Remove from oven and drizzle enchilada sauce and salsa on top. Top with remaining 1 cup of cheese. Bake 10 minutes until cheese is melted. Served with a side of sour cream, shredded lettuce, and fresh lime sprinkled on top if desired. Very festive, so delicious and a fun dinner. Great leftovers the next day!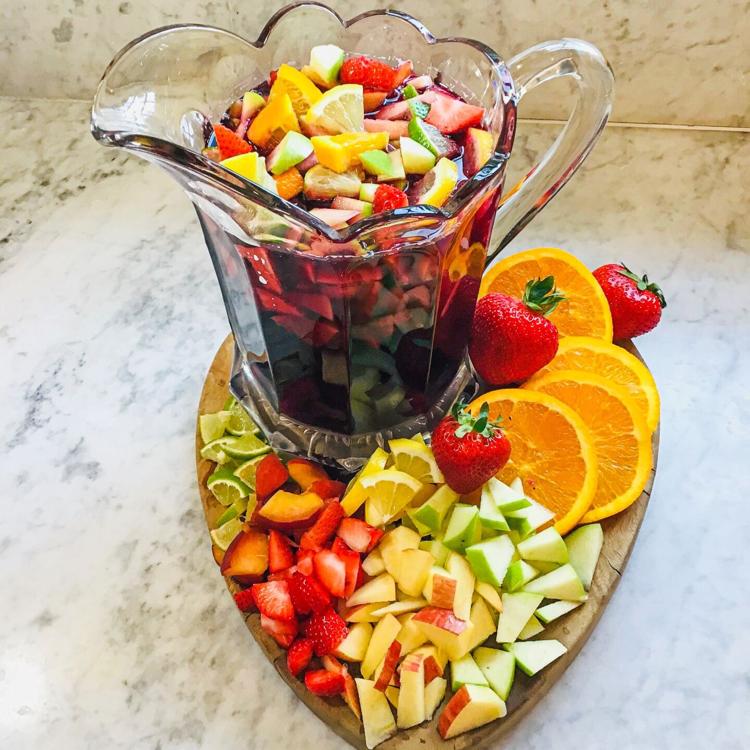 Sparkling Sangria
1 lemon, sliced
2 limes, sliced
1 fresh ripe peach,sliced
1 cup fresh chopped strawberries or may use one cup frozen strawberries
1 green apple, chopped in bite size pieces
1 red apple, chopped in bite size pieces
1 whole orange sliced to float on top or cut up in smaller wedges
2 (2 liter) ginger ales
1 bottle Cabernet Wine
Combine all of the ingredients in large container. Serve in attractive picture to pour and garnish glasses with wedges of lime and lemon.
Non-Alcoholic Sangria
Use all of the same fruits above and substitute wine with Ginger ale or Lemon-Lime Soda and cranberry juice. Everyone can enjoy this!