Despite numerous organizations we've highlighted that are concerned with and dedicated to helping protect and preserve our aquatic resources and shores, one perhaps less well known is the Florida Sea Grant Program, part of the National Sea Grant Program. "Florida Sea Grant is a university-based program that supports research, education and extension to conserve coastal resources and enhance economic opportunities for the people of Florida. We are a partnership between the Florida Board of Education, the National Oceanic and Atmospheric Administration, and Florida's citizens and governments.
We tap into the research expertise of more than 800 coastal and ocean scientists at the state's 16 major universities and research laboratories, and we are an integral part of the Institute of Food and Agricultural Sciences at the University of Florida, (UF/IFAS) one of the nation's leading Land Grant universities. Our 20 extension agents live and work in coastal communities. They have a breadth of experiences and tremendous trust from their local residents as reliable sources of science-based information. Our seven statewide extension specialists lead highly relevant programs including
seafood safety, boating and waterway management, coastal conservation law, aquaculture and fisheries management."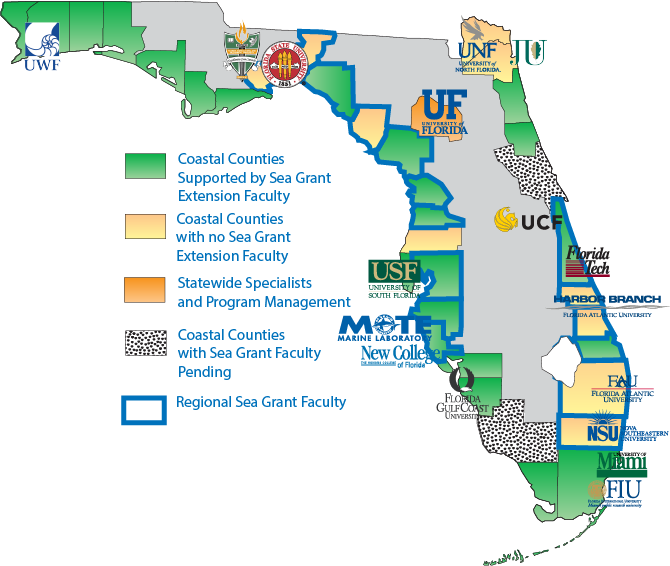 Although Elizabeth Carnahan is a Florida Sea Grant Extension Agent in Pinellas County, the Chicago native spent two years in the Florida Keys working at Sea Camp, and she does have a favorite Mexican restaurant when she travels back this way. She serves as a member of the Pinellas County Extension Urban Sustainability Team and implements educational programs that focus on marine industries, fisheries and habitat issues. This includes coastal hazards and climate change issues. As a Certified Climate Change Professional, she has a strong interest in the impact of sea level rise. She was one of the lead authors for the report, "Recommended Projections Of Sea Level Rise In The Tampa Bay Region", for the Tampa Bay Climate Science Advisory Panel (Updated April 2019). Pinellas County shares similar concerns of our communities in outlining the following core issues and challenges. "Flooding of public infrastructure and private property; Shoreline and beach erosion; Impacts to the operation of coastal drainage systems; Threats to drinking water and wastewater treatment facilities and distribution infrastructure; and Shifts in wetlands and other tidal habitats, resulting in the loss of ecosystem services. The economic costs of inaction given the known threats of SLR must be carefully considered against the costs of implementing adaptation strategies, technological solutions, and infrastructure investments necessary to protect the health, safety, and quality of life for the community."
Academic expertise in multiple related fields is vital to develop and help implement solutions to these problems, yet there are also roles for "citizen scientists"; residents and visitors who care about our waters and coast. Awareness of all the issues involving ecosystem protection is important as is engaging when possible at the municipal, county, and state level. An example is mentioned in last week's article, "Recent Biscayne Bay Crisis Heightens Calls For Action." A Miami-Dade County Fertilizer Ordinance has been written and will be available for discussion in early October. Public input is a factor the commissioners consider.
Ashley R. Smyth, Ph.D., Assistant Professor in the Soil and Water Sciences Department, here at the Tropical Research and Education Center, UF/IFAS, is a state specialist. Originally from Philadelphia, she's a coastal biochemist who's been working with the agricultural community for three years about how certain harmful elements move through soil and into the water. "Everyone knows about Land Grant, but Sea Grant is part of the extension office, too. We can help and be a resource."
In our neighboring Keys, Shelly Krueger, Florida Sea Grant Agent II at UF/IFAS Extension, Monroe County, has been in the Key West Office for seven years, but is often at the Key Largo office. In growing up around Lake Michigan, she visited her grandparents in Florida. She's the co-lead of Sea WAG (work action group) where harmful algae blooms that are impacting Biscayne Bay is one of their subjects. Among other citizen volunteer efforts, they also established a Florida Horseshoe Crab project where individuals can take free on-line training to learn how to help track crab population.
(http://blogs.ifas.ufl.edu/ncbs/2020/05/06/virtual-training-for-florida-horseshoe-crab-watch-now-live/)
Whether a student or an adult, the extensive repository of information and programs at Sea Grant provide education and opportunities to be involved with protecting our unique ecosystems. Learn more at https://www.flseagrant.org or find them on Facebook, Twitter, and Instagram.