Everyone who enters the Homestead Cybrarium is impressed with the facility, services, and staff. There are those though who have fond memories of the older library and have found their way to the nearby Naranja Branch library located at 14850 Southwest 280th Street.
The spacious, stand-alone building was opened July 13, 2009 as one of the new libraries constructed under the Building Better Communities General Obligation Bond Program.  Staff member Enid Villafane, who has been with the Miami-Dade County Public Library System (MDPLS) for twenty-three years, was part of the initial staff. Residents might remember the smaller, storefront branch on Dixie Highway that operated for approximately six years prior to the new building.
In fact, November is the fiftieth anniversary of the Miami-Dade Public Library System. In response to a query, Ray Baker, Director, MDPLS described the branch's multiple facets. "The Naranja Branch Library is more than a building with books. It is a community anchor that provides residents with resources, tools and information they need to thrive and succeed. The branch offers access to public computers, the internet and Wi-Fi. It is one of our Drive-up Wi-Fi locations, which allows anyone to connect to free Wi-Fi from outside the library from the comfort of their vehicle by parking in one of the specially marked Drive-up Wi-Fi spaces.
Patrons can also check out a tablet with built-in wireless internet access and Wi-Fi capability to take home and use for free with their library card as part of MDPLS's  Tablet Lending Program. Additionally, Miami-Dade Public Library cardholders are eligible to have books mailed directly to their homes through our Libraries @ Your Door Home Delivery Service. There are so many great services and resources offered by MDPLS.
The knowledgeable and dedicated Naranja Branch Library team are always available to help and answer any questions in person or by phone: 305-242-2290.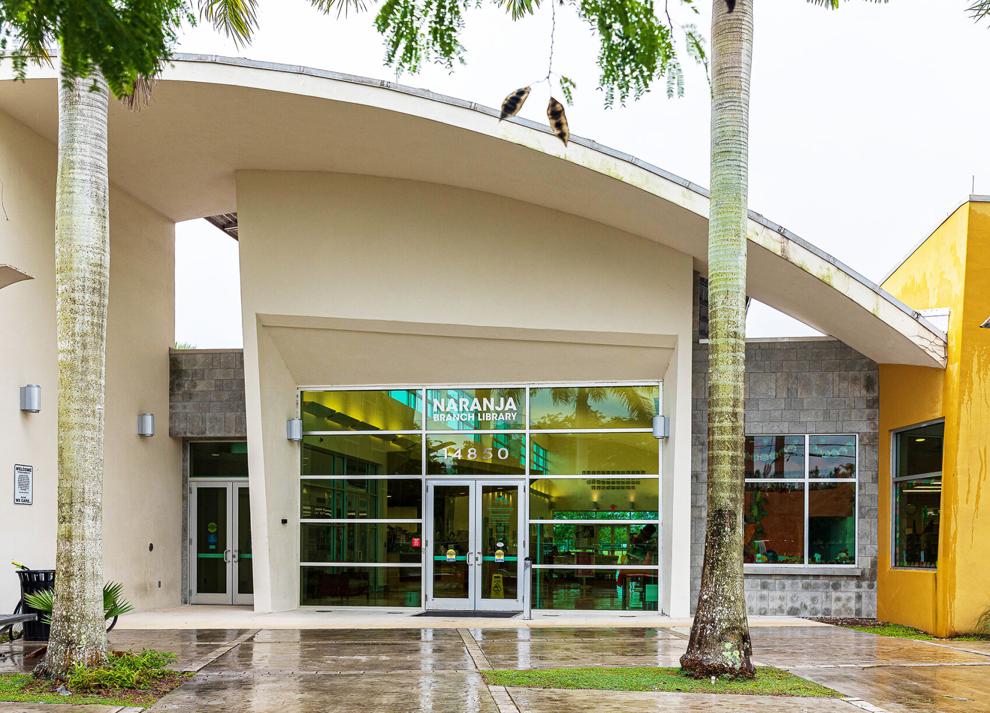 Residents can email customercare@mdpls.org if they need any assistance."
Although in-person events are resuming at the library, on-line events which were expanded during COVID-19 have proved popular and will continue to meet the needs and preference of people who enjoy that access. For a complete listing of events happening at the Naranja Branch or online, visit https://mdpls.org/branch-naranja.
There is a reciprocity agreement between the County and the Homestead Cybrium. "Homestead residents may continue using their Miami-Dade Public Library System (MDPLS) card at all 49 of our locations, online at www.mdpls.org and through our mobile app. Additionally, residents in municipalities that are part of our reciprocity agreements are eligible to obtain our card, and vice-versa. To sign-up for a free MDPLS library card, go online to ecard.mdpls.org, visit any MDPLS location, including the Naranja Branch, or e-mail customercare@mdpls.org."
Longtime Homestead resident MaryDee Burkhart, artist and retired art teacher, enjoys the facility. "The Naranja branch is only a couple minutes farther for me, and it is definitely worth going. The staff is helpful, friendly, professional, the in-house selection of material is completely adequate and they can order just about anything for the patrons, the layout inside is well thought out, logical like libraries are supposed to be. The WIFI in the parking lot is also extremely convenient."
For more information, https://mdpls.org/branch-naranja ; Tel: (305) 242-2290 The branch manager, Milena Gonzalez can be reached at email: gonzalezmi@mdpls.org