We all seem to be searching to a unique lunch to serve when we get a call from an unexpected guest that wants to drop by. Recently this happened to me! I was looking for lighter fare that would  still look pretty, yet satisfy and fill them up. Bacon Raspberry Balsamic Spinach Salad fits the order. Colorful, tasty , yet delicious to eat will delight any guest. It's quick and no fuss to make. Of coarse, can't forget the dessert. Our recipe for Four Layer Oreo dessert will be an enormous hit for your drop by guest. It's quick to make and definitely a dessert that gets better overtime.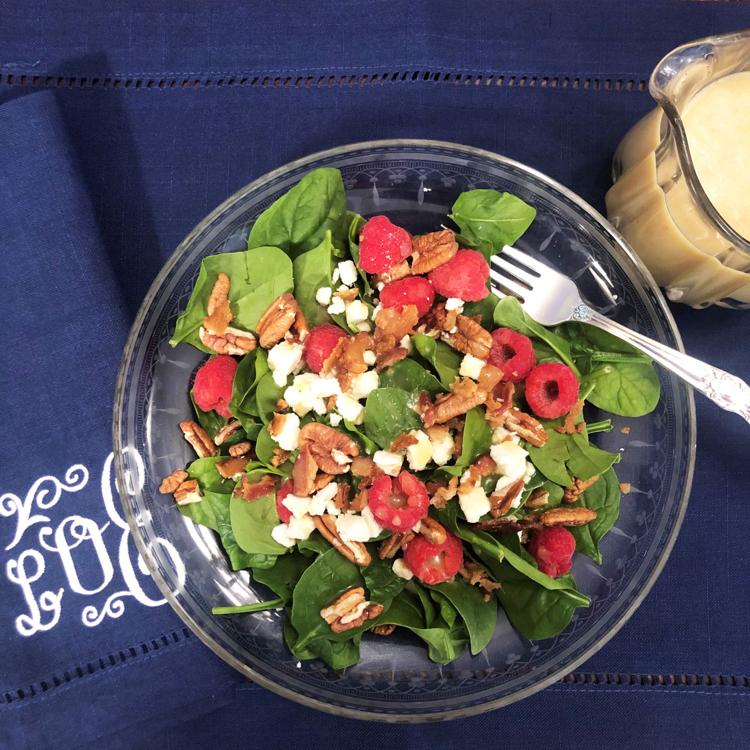 Bacon Raspberry Balsamic Spinach Salad
1 package Spinach Salad Greens
1 cup fresh Raspberries
1 cup toasted Almonds or Pecans
1/2 cup crumbled feta cheese
3 strips Bacon cooked and crumbled
Dressing
2/3 cup olive oil, extra light
1/3 cup raspberry vinegar
1 teaspoon t garlic
1 teaspoon grainy mustard
Juice of 1/2 lemon
Process all ingredients until well blended I sometimes double this recipe, it last a long time refrigerated. 
To toast Almonds or pecans:
Spread 1 cup nuts in a single layer on a baking sheet. Toast  300 degrees for 10 minutes until light brown.
Combine all ingredients for salad and toss with dressing. Sprinkle nuts  on top.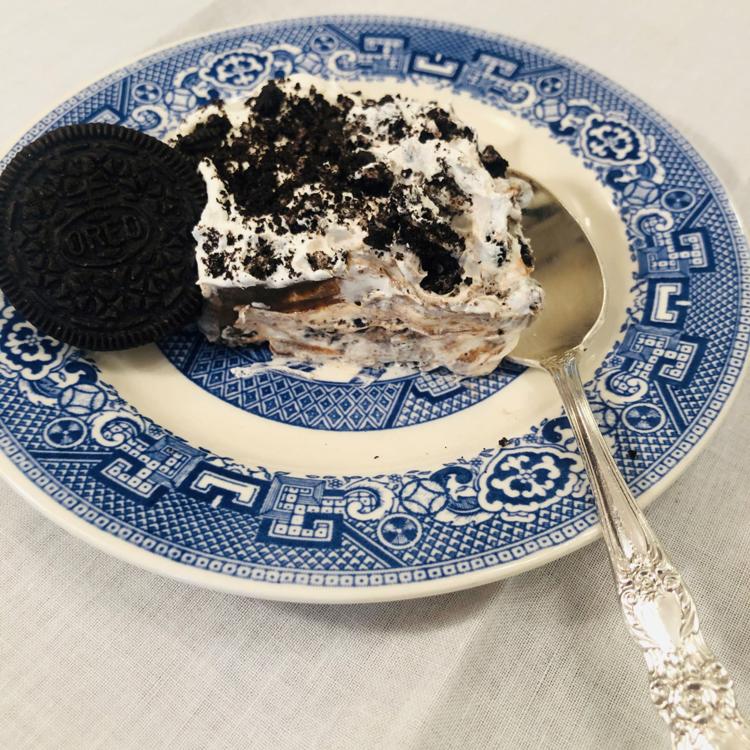 Oreo Four Layer Chocolate Dessert
Crust
1 package 15 ounce Oreos crumbled
1 stick of butter melted
Filling
1 (8 ounce) cream cheese
1 cup powdered sugar
1  and 1/2 cup cool whip
From large container cool whip 
Chocolate layer
1 small package chocolate instant pudding mixed with 2 cups milk
Mix together crumbled Oreos and melted butter. Spread in ungreased 13x9 inch pan. Chill crust  while mixing up filling. Mix together cream cheese, powdered sugar and cool whip. Spread carefully on chilled Oreo butter crust. Mix chocolate pudding and spread on top of cream cheese mixture. Spread remainder cool whip from carton on top of pudding. Crumble 5 or 6 Oreos to finish of top. Easy, no baking and very pretty on plate. A good dessert for a salad luncheon.
Tip: Serve your Salad with a nice bread or roll. Peach Iced tea also goes nicely with this luncheon. Enjoy!