Let's celebrate the holiday of Father's Day honoring fatherhood and paternal bonds with the Father's in our lives. Nothing is better than wonderful foods
to celebrate that special Father in our life. Ribs on the grill that will fall off the bone, macaroni and cheese topped off with a moist chocolate cake is a meal he won't forget. Our homemade barbecue sauce can be made several days in advance and will give you rave reviews with its delicious taste and flavor. So let's get started!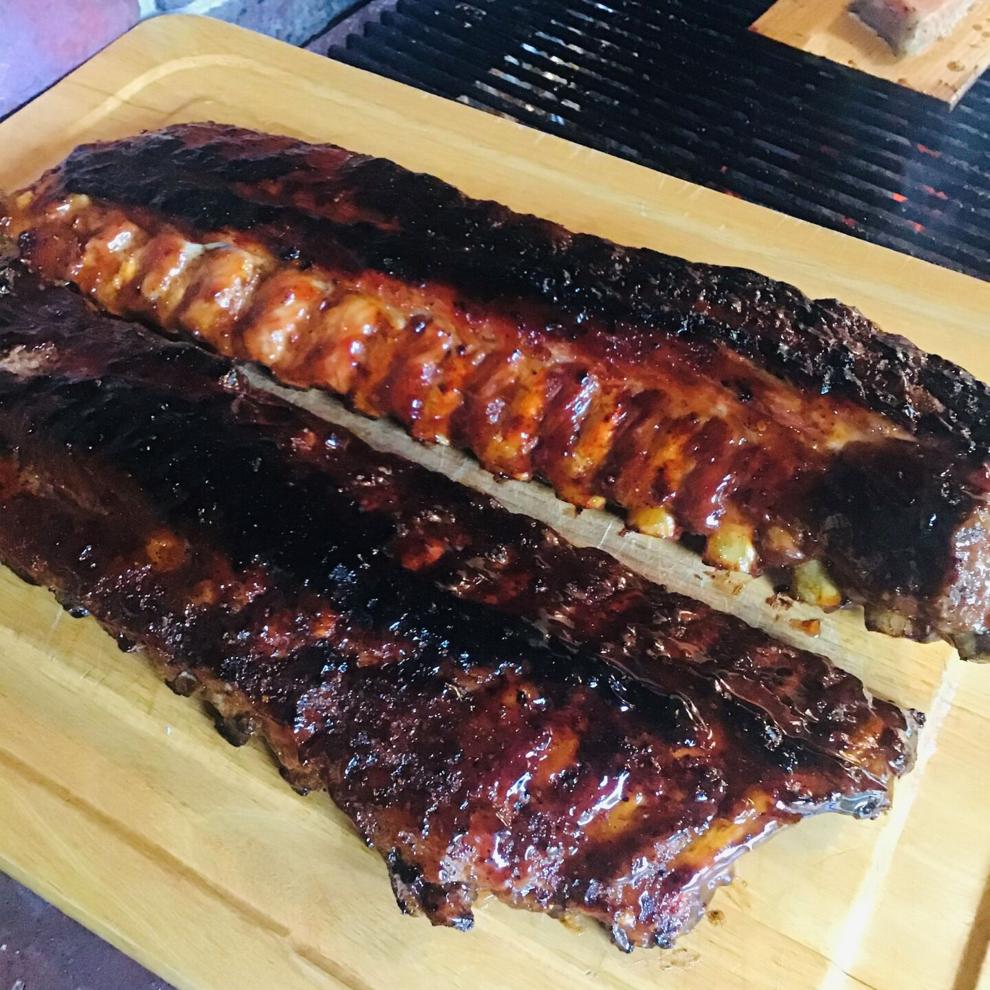 Barbecue Ribs
2 pounds baby back ribs
Rib rub:
Half of a cup brown sugar
1 teaspoon salt
1 teaspoon pepper
1 teaspoon ground mustard
Juice of 1 lemon
Barbecue sauce:
3/4 cup brown sugar
1 1/2 cups ketchup
1/4 cup apple cider vinegar
1/2 cup water
1 tablespoon molasses
1 tablespoon Worcestershire sauce
1 teaspoon salt
1/2 teaspoon garlic powder
1/2 teaspoon ground mustard
In a sauce pan mixed together all above ingredients for barbecue sauce. Cook over medium heat stirring occasionally until thickened.
In a bowl stir together rib rub mixture of brown sugar, salt, pepper, ground mustard, and lemon juice. Rub mixture all over ribs and place on a baking sheet, that has been lined with foil. Cover ribs with foil. Preheat oven to 350°. Bake ribs in oven covered for one hour. Remove ribs from oven and finish off on grill basting continually with sauce this takes about 45 more minutes. If you do not want to grill continue baking ribs in oven for one more hour.
At this time baste with sauce for last hour in oven. Serve sauce on side when serving ribs. Delicious both ways! Worth the effort….
Macaroni and Cheese
8 ounces elbow macaroni
1/4 cup butter
3 tablespoons all purpose flour
1 teaspoon dry mustard
1/2 teaspoon salt
2 cups whole milk
2 1/2 cups shredded cheddar cheese
Cook elbow macaroni for nine minutes. Drain macaroni and set aside. Preheat oven 350°.
In a medium sauce pan melt butter, blend in flour, dry mustard and salt. Stir until mixture is smooth, gradually add milk. Cook and stir over medium heat until mixture boils gradually adding in 2 cups cheese. Stir until cheese melts.
Add pasta, mix together and pour into a greased 2 quart casserole and top off with remaining 1/2 cup cheese. Bake for 25 minutes or until browned and bubbly.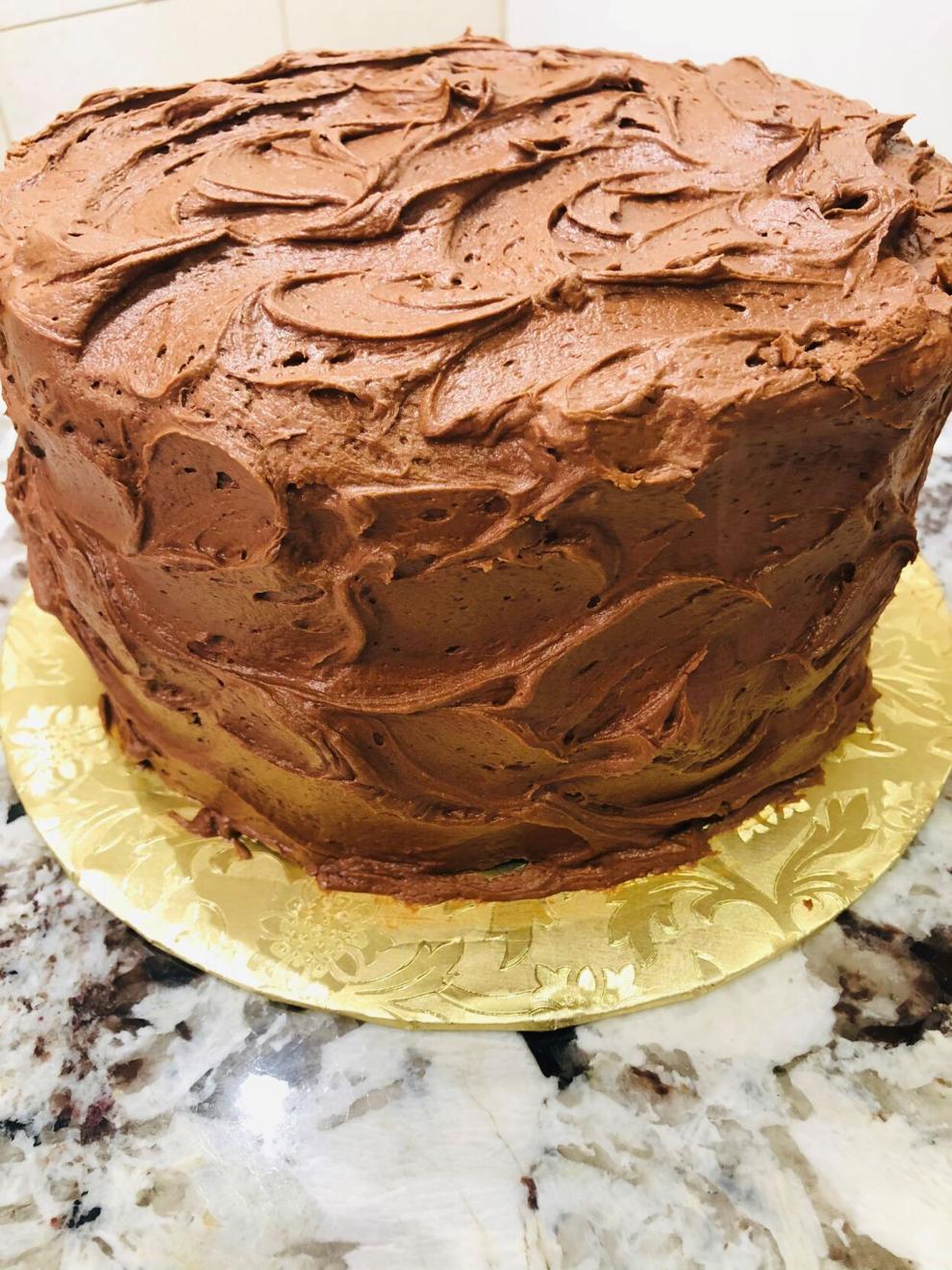 Chocolate Mayonnaise Cake
I know this sounds different! This cake is absolutely delicious! So moist and good you'll keep going back for another piece. My mom made this cake all the time for us when we were growing up. It was a family favorite!
3 cups white all purpose flour
1 1/2 cups mayonnaise
1 1/2 cups white sugar
1 1/2 teaspoons baking soda
2 1/4 teaspoons baking powder
1/3 cup cocoa powder
1 1/2 cups water
1 1/2 teaspoons vanilla extract
In a bowl stir together all dry ingredients. With a mixer add in mayonnaise, water and vanilla extract. Blend well. Pour into two greased and floured either 9 inch cake pans. Bake at 3:50° for 30 minutes or until center test done. Cool and frost.
Frosting:
1 stick unsalted butter
2/3 cup cocoa powder
One pound box of powdered sugar ( equals 3 1/2 cups)
1/3 cup evaporated canned milk
With mixer, cream butter. Add cocoa, powdered sugar, and milk mixing well until spreadable. Frost cooled cake.