Our Halloween this year is certainly going to be slightly different for your little pumpkins.
We can still certainly serve our family and friends some scary good foods at this usual time.
Witches Brew casserole is a Halloween dish your goblins will really enjoy.
Cinnamon Goblin Apples with Meringue are a nice side for your Witches Brew.
Serve this Ghostly White Chocolate dessert for breakfast, snack, or even a dinner dessert.
Whatever you will serve, make this day memorable for your ghoulish little goblins and pumpkins.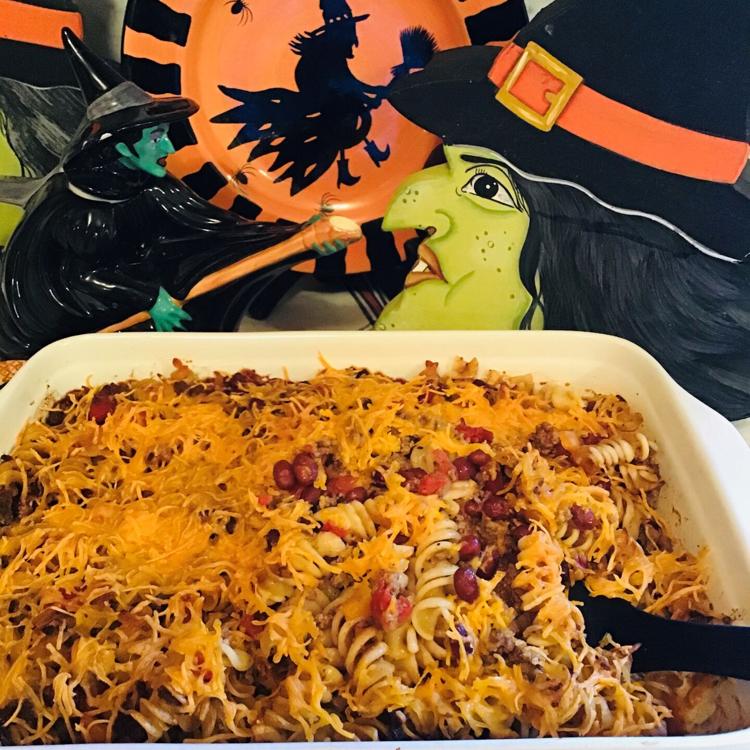 Witches Brew Casserole
1 1/2 pound ground beef, chuck, or round
1 teaspoon salt, 1 teaspoon pepper
One small onion chopped
One small bell pepper chopped (you can use green I used orange for Halloween)
One 15 ounce can red kidney beans not drained 2- 15 ounce cans diced tomatoes not drained 4 cups corkscrew pasta measured after cooking
One package ( 8 ounce) grated cheddar cheese.
In skillet brown meat, diced onion, diced pepper. Add salt and pepper and cook until browned.
Cook pasta according to package directions. Drain. Add pasta (only 4 cups cooked) to cooked meat mixture, adding beans, and tomatoes. Stir to combine well. Pour into a 9 x 13 lightly greased baking dish. Top with entire package shredded cheddar cheese and bake at 350° for 30 to 40 minutes.
You may like to add more salt and pepper, according to your taste.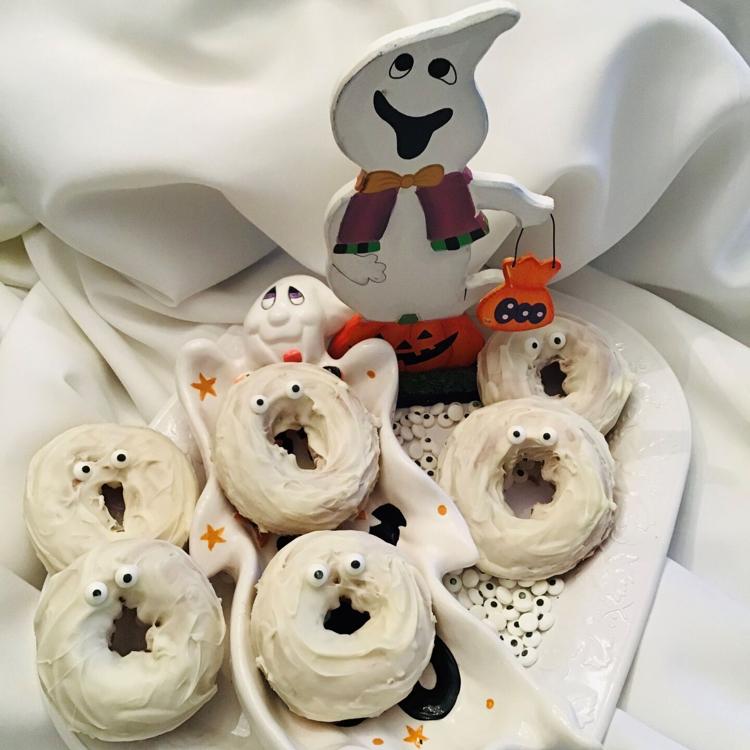 Cinnamon Goblin Apples with Meringue
Six red or green apples
3 tablespoons brown sugar
3/4 teaspoon cinnamon
1 tablespoon butter
White raisins
Meringue
Three egg whites,
1 teaspoon cream of tartar,
6 tablespoons white sugar
Core the apples being careful not to cut all the way through. Combine sugar, butter, and cinnamon. Stuff about a 1/2 teaspoon of mixture into each Apple cavity. Add enough raisins to fill to the top. Place in an uncovered, lightly greased baking dish and bake at 350 degrees until tender about 50 minutes. Remove from oven. For meringue, whip egg whites until stiff peaks form, add cream of tartar and sugar, and continue whipping to desired stiff peak. Spread meringue on top of each baked apple. Bake at 275° for 20 minutes or till meringue is nice and brown. Serve warm or chilled.
Spooky Ghost Dessert
Six store-bought cake donuts
White chocolate for melting, (I used White Chocolate Bark squares)
Edible googly eyes
Cover tray with wax paper. Melt chocolate according to package directions. Dip top of each cake donut into white chocolate. Place on wax paper and add googly eyes. These are adorable, and it will be a hit with your little ghosts.