The best way to spread Holiday cheer to your Season is by giving people you love a delicious treat. Who doesn't love something homemade or home-baked these days?
Our treats below are just that simple answer for your dilemma on what to give that special friend or family member. All of our recipes below can be made in advance and actually freeze very well. The recipe for Peanut Butter Kiss cookies are most fun and festive to serve at any time. White Chocolate Peanut candy is so easy to make and very delicious to taste.
Add a little color to your gift box by filling it with our Confetti Bar treat.
Everyone will love these. Colorful and delicious!
Peanut Butter Kiss Cookies
1 1/4 cups all purpose flour
3/4 teaspoon baking soda
1/4 teaspoon salt
1/2 cup unsalted butter
1/2 cup peanut butter
1/2 cup white sugar
1/2 cup brown sugar
One egg beaten
1 teaspoon vanilla extract
36 Hershey candy kiss
Preheat oven 375°.
Sift together flour, baking soda and salt. Set aside. With a mixer cream butter, peanut butter, white sugar, brown sugar, egg and vanilla extract. Gradually blend dry ingredients into cream mixture. Shape into 1 inch balls. Place on ungreased cookie sheet 2 inches apart. Press crisscross with fork. Bake 375° for 10 to 12 minutes. When taking cookies out of the oven press one candy kiss into center of each cookie. Cool completely.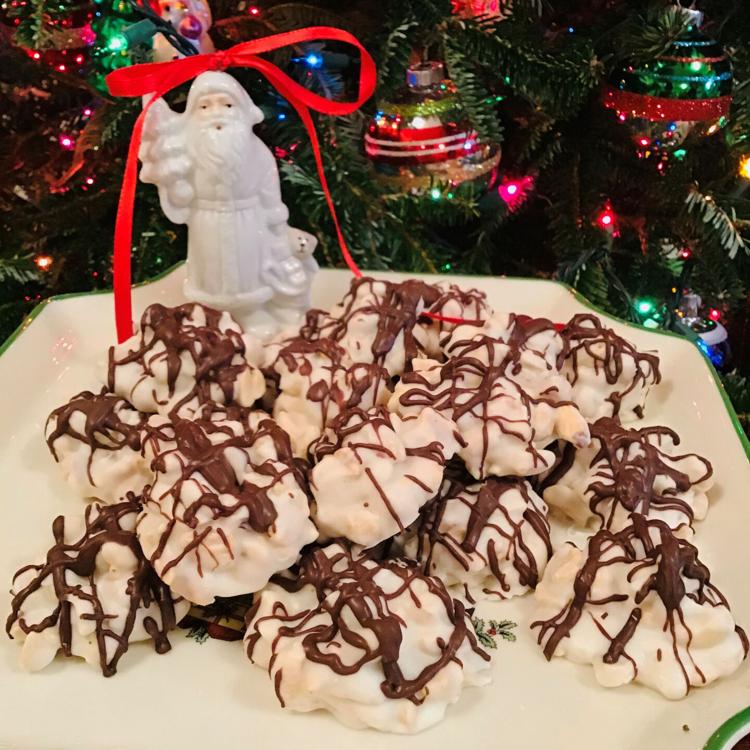 White Chocolate Peanut Candy
12 ounces semi sweet chocolate chips (can be white or chocolate what ever you prefer) you can also use Chocolate Bark, it works well.
12 ounces unsalted, dry roasted peanuts
Milk chocolate in a microwave oven on high about 1 1/2 minutes until smooth.
Stir in peanuts. Drop by teaspoon full onto a wax paper lined pan. Refrigerate until set, about 5 to 10 minutes. After removing from refrigerator you can melt a little more dark chocolate to sprinkle on top with a fork. This candy stores well in an airtight container for quite some time. This recipe is no fuss, quick easy and delicious!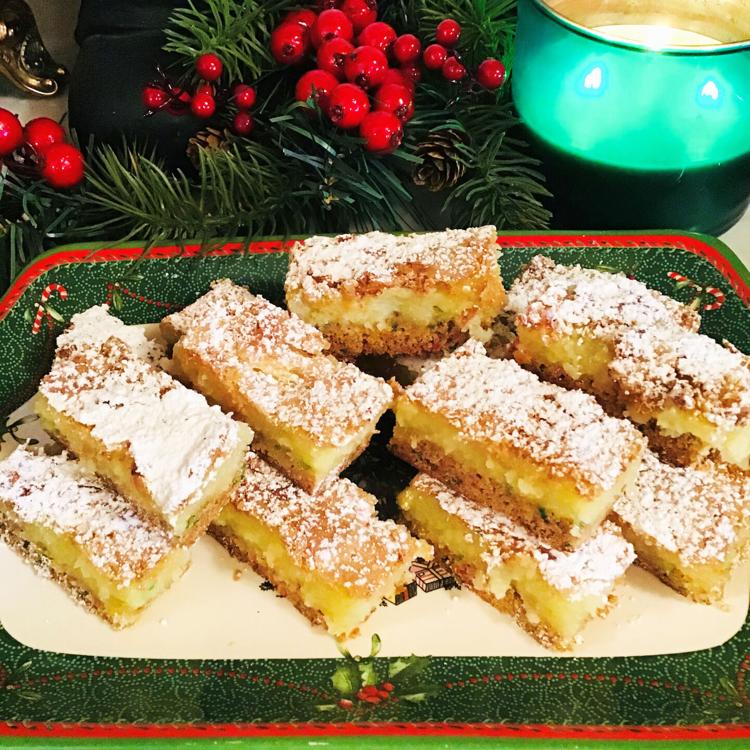 Confetti Bar Fun
1 box Duncan Hines confetti cake mix
1 stick butter cut into small pieces
1 egg beaten
With mixer mix until slightly crumbly and pat into a greased and floured 13 x 9" pan or lined with parchment paper.Set aside.
One 1 pound box of powdered sugar
Three eggs beaten
One 8 ounce package cream cheese, softened
With mixer, mix powdered sugar, eggs and cream cheese together until smooth. Pour over crumbly cake batter in pan. Bake at 325° for one hour. Dust with powdered sugar and cut into squares. Makes 24 squares.
Tip: Have a plan and recipes ready before you start baking. Baking and decorating cookies as a treasured holiday activity that brings people together in a fun creative way even if it's just with your close family, it's still a fun way to celebrate this festive holiday season.