With the Holidays upon us thoughts of what we will cook for our Thanksgiving dinner comes to mind. Most of us cook traditional turkey and dressing and of course everyone thinks about what to do for dessert. The usuals for most people are pumpkin pie, pecan pie, lots of whip cream and possibly something chocolate for the chocolate lover. A recipe for Chocolate Pecan Pie is a little something different that you might want to add to your dessert table. Our Harvest Pie is a take on apples mixed with cranberries with a delicious caramelized nut topping. Most stores have cooking supplies and baking items on display in front of the store. Make a list and try to pick up several items on your list to bake those special treats for your family and friends. Baking and sharing is one of the best parts of the Holidays. 
Chocolate Pecan Pie
One unbaked pie crust 1/2 cup white sugar
1 cup light corn syrup 1/4 cup butter melted
Three eggs 1 teaspoon vanilla extract
1 cup semi sweet chocolate chips 1 1/2 cups chopped pecans
Preheat oven 325°.
In a mixing bowl beat together sugar, corn syrup, butter, vanilla and eggs until well blended. Stir in chocolate chips and chopped pecans. Pour into unbaked pie shell. Bake 55 to 60 minutes or until filling is set and golden brown on top.
For topping:
You will need 1/2 cup chocolate chips and
12 whole pecans
Melt 1/2 cup chocolate chips in microwave about 1 1/2 minutes. Dip ends of 12 pecan halves in chocolate just about half of ends of the pecans and place on wax paper lined cookie sheet. Cool in refrigerator. Garnish top of pie when ready to serve withchocolate dipped pecans and serve with whip cream.
Harvest Apple Cranberry Pie
Preheat oven 400°
1 unbaked pie crust
Six large apples peeled and sliced (I use 3 Granny Smith and 3 Rome, pink lady, or gala)
1/2 bag whole cranberries
1 cup brown sugar
4 tablespoons flour
2 teaspoons cinnamon
Topping:
1 stick butter
1 cup brown
2 tablespoons canned milk
1 cup chopped walnuts
In a mixing bowl mix together cut up apples, cranberries, sugar, 4 tablespoons flour, and cinnamon. Spoon into unbaked piecrust. Place in oven to bake for 50 minutes
Prepare topping:
In a saucepan melt butter, add canned milk and walnuts. Bring to boil and cook for 3 minutes. The last 15 minutes of baking time pour topping onto pie and continue baking. Serve with whip cream.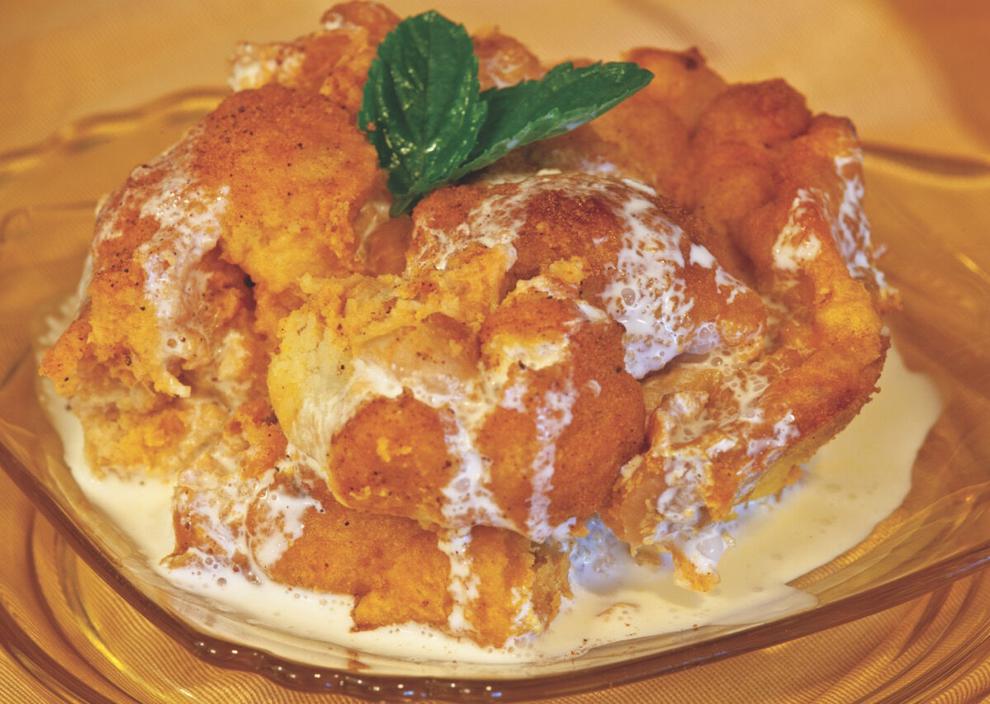 Warm Pumpkin Bread Pudding
Preheat oven to 400°
1 cup heavy cream
3/4 cup canned solid packed pumpkin
1/2 cup whole milk
1/2 cup white sugar
Two large eggs plus one egg yolk
1/2 teaspoon ground cinnamon
1/2 teaspoon ground nutmeg
5 cups French bread, crust cut off and cubed
3/4 stick butter melted
Whisk together cream, pumpkin, milk, sugar, eggs, yolk, and spices in a bowl. Toss bread cubes with butter in another bowl, add pumpkin mixture and toss to coat. Transfer to a lightly greased 8 inch baking pan and bake until custard is set about 30 minutes. Serves six. This recipe is lovely served warm with a little bit of whip cream on top! It's really delicious!  Do not substitute other breads. I have had friends try and it did not work.