With Fall just around the corner thoughts of good cakes come to mind.
If you love lemons and you love pound cake this famous Ritz Carlton Lemon Pound Cake is for you. There are several other pound cake recipes that are wonderful however, this one is unique and a favorite. This recipe originated in the 1700s and became popular in early 1920s at the Ritz Carlton Tea Room. This cake is very moist and lemony. Along side this is a recipe for Banana Nut Cake that is full of banana flavor and Fall deliciousness.
Top this cake off with a Rum Buttercream frosting and a sprinkle of nuts. Yum!
Ritz Carlton Lemon Pound Cake
3 cups all purpose white flour
1 tablespoon baking powder
1/2 teaspoon salt
3 cups white sugar
1 cup unsalted butter
1/2 cup shortening
5 large eggs
1 cup whole milk
6 tablespoons lemon juice
Zest of one lemon
Preheat oven to 350°. Spray or grease and flour one large Bundt pan. With a mixer cream together butter, shortening, and sugar. Add eggs one at a time beating well. Add dry ingredients to butter mixture alternately with milk. Beat at low speed just until blended after each addition. Mix in lemon juice and lemon zest. Pour batter into prepared pan. Bake 55 minutes until tester inserted in center comes out clean. Cool cake in pan for 15 minutes before turning out onto a rack. Glaze with lemon glaze if desired.
Lemon Glaze
One cup confectioners sugar
2 tablespoons warm milk, plus more to thin
1 tablespoon freshly squeezed lemon juice or 1 teaspoon lemon extract
In a small bowl, whisk together confectioners sugar and milk and lemon juice. Test the consistency it may need to be thinner by adding more milk. Drizzle over cake.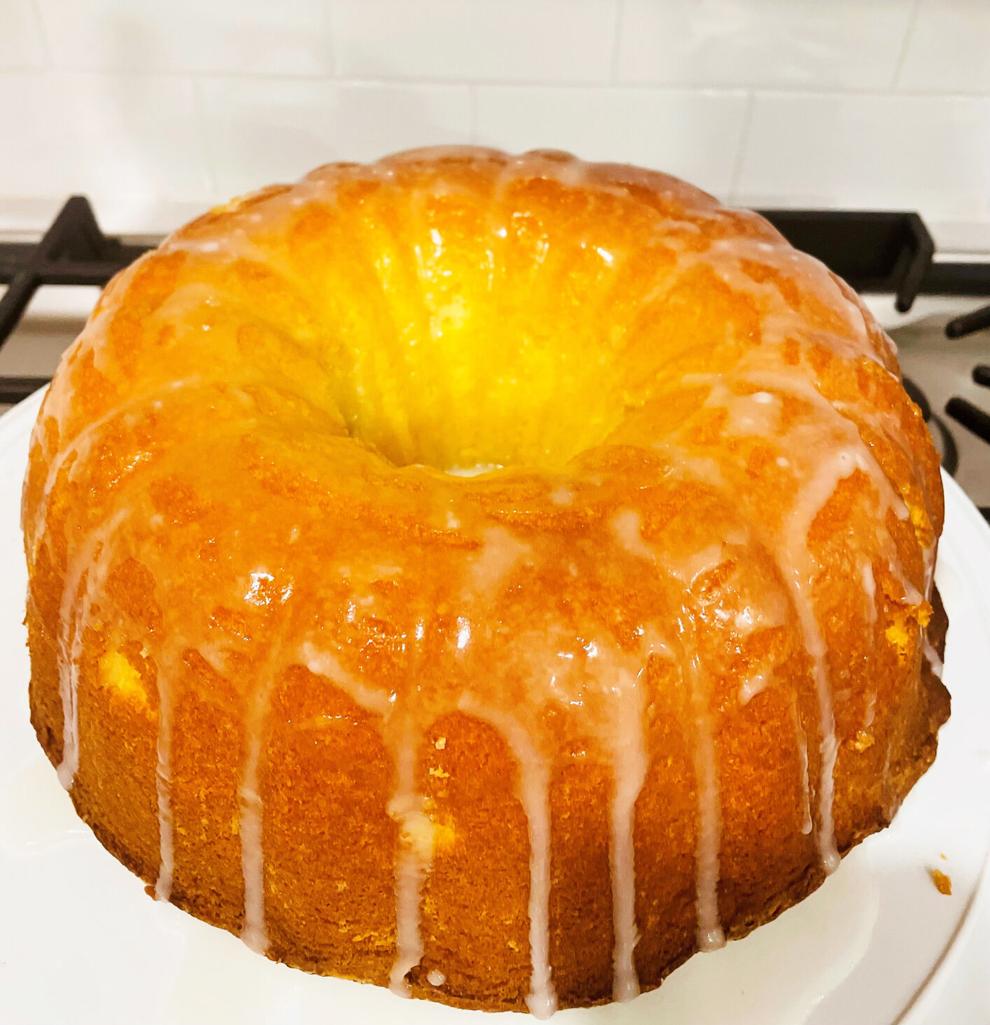 Banana Nut Cake with Rum Butter Cream Frosting
2 1/3 cups cake flour 2 1/2 teaspoons baking powder
1/2 tsp baking soda
1/2 tsp salt
1/2 tsp cinnamon
One cup ripe bananas mashed
1/2 cup buttermilk 1/2 cup unsalted butter
1 1/4 cups white sugar
Two eggs
1 ttsp vanilla extract
3/4 cup chopped walnuts
Rum Butter Cream Frosting
1/3 cup butter
One (1 pound) box of powdered sugar
3/4 cup milk
1 1/2 teaspoons rum extract
Preheat oven to 350°. Grease and flour 2 (9) inch cake pans. Sift together flour, baking powder, baking soda, salt and cinnamon. Set aside. Mixed together bananas and buttermilk and set aside. In a large bowl, beat butter, sugar and eggs for three minutes. Mix in flour mixture alternately with butter mixture, beating until smooth. Add vanilla extract and 1/4 cup of chopped nuts. Pour into 2 (9) inch pans. Bake for 30 minutes or until center springs back when lightly pressed. Cool on racks for 10 minutes and then turn out and cool completely.
For frosting:
With a mixer beat butter until soft. Add powdered sugar, rum extract and milk beating until creamy. Frost the cake and put remaining nuts on top of cake. So delicious!!