We are already going into the third week of October and before we know it we will be thinking of our holiday Christmas list. I love keeping our recipes for Fall flowing into the Fall holidays.
It's absolutely such a special time of year. Fried Chicken and Pumpkin Waffles was a sweet suggestion from my granddaughter the other day. She loves when I make Pumpkin Waffles and to top it off with our juicy fried chicken recipe. To make it easier for our readers I included my easy chicken tender recipe that everyone always enjoys. It goes really well with the Pumpkin Waffle recipe. Our Pecan Cobbler is a different twist on our holiday favorite Pecan Pie. It is delicious to serve when company is coming, and great when the weather gets chilly in Fall. It is an unusual and delicious twist on a cobbler.
I'm sure you will enjoy this different way to use your Pecans this Holiday Season.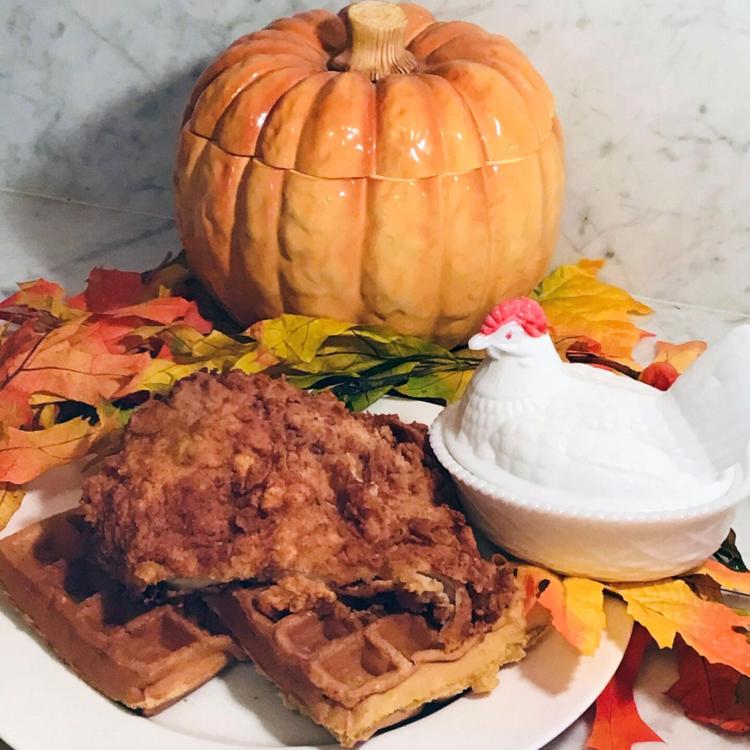 Pumpkin Waffles For the Fall
2 cups all-purpose white flour
1/4 cup brown sugar
1 teaspoon cinnamon
1 teaspoon nutmeg
1 teaspoon baking powder
1/2 teaspoon baking soda
2 eggs beaten
1/2 can pumpkin purée
1 3/4 cup whole milk
One stick butter melted
Mix together flour, brown sugar, nutmeg, cinnamon, baking powder, baking soda. Set aside. Mixed together two beaten eggs, a half of canned pumpkin purée, whole milk, and melted butter. Add mixture to dry ingredients. Mix well. Spray waffle iron with cooking spray. When heated pour batter in and cook according to waffle maker directions.
Fried Chicken Tenders
4 boneless skinless chicken breast
1 cup all-purpose white flour
1/2 teaspoon salt
3/4 cup whole milk
1 cup vegetable oil for frying
Warm Syrup
Cut chicken into 1/2 x 2" strips. Set aside.
Mix flour, salt and pepper in a shallow bowl. Dip chicken into milk. Roll in flour mixture to coat well. Place chicken on waxed paper. Pour a fourth of an inch of oil into a large heavy skillet. Heat over medium high heat to 350 degrees or until a cube of white bread dropped in oil browns evenly in one minute. Divide chicken into batches. Place chicken on an even layer in hot oil. Fry, turning once, for about three
minutes on each side or until golden brown and crisp. Drain on paper towels. Serve on top of Pumpkin Waffles. Drizzle with warm syrup.
I fried whole chicken breasts for the picture below. It works just as well as tenders. The younger Sweet Pumpkins seem like the tenders better!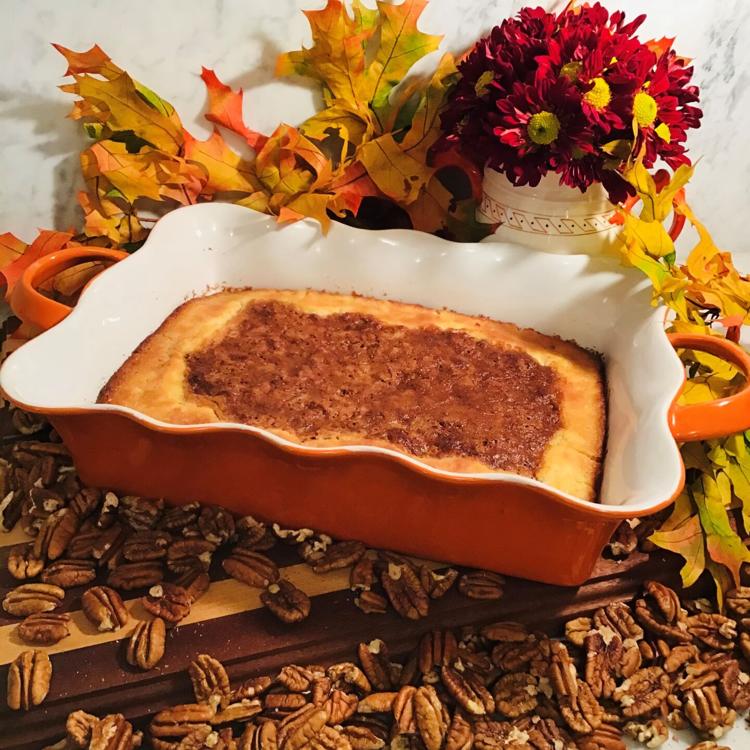 Fall Pecan Cobbler
1 stick of butter melted and poured into a 13 x 9 pan
1 cup all-purpose white flour
1 cup whole milk
1 cup white sugar
1 1/2 teaspoons baking powder
Filling
2 eggs beaten
1/2 cup brown sugar
1 1/2 teaspoons vanilla extract
2 tablespoons dark Karo syrup
1 3/4 cup chopped pecans, not chopped to fine
Preheat oven 375°. Spray 13 x 9 pan with cooking spray. Melt butter and pour in pan. Mix together flour, sugar, baking powder and milk. Pour mixture over top of melted butter in pan. Do not stir.
Mixed together eggs, brown sugar, vanilla extract, Karo syrup and chopped
pecans. Pour over batter mixture down center of pan.
You want to keep edges of batter more like a cobbler.
Bake for 35 minutes. Serve of coarse with whip cream or ice cream. You are going to love serving this for the holidays!