Which word do you associate with: dinner, supper or evening meal?
We all grew up with our families associating this event with one of the above titles. Thoughts of something tasty when we sat down at the table come back for most of us. This incredibly easy to make pork chop recipe is juicy, tender and can be made with a handful of simple ingredients and seasonings.
Add to it a side dish of White Bean Feta Salad, yum! The dressing for the salad is made with just a few ingredients that take only minutes to mix up.
I like to keep my side dishes simple so they don't steal the show of the main dish. White Bean Feta Salad only takes a few minutes to prepare and will bring texture, color, and flavor to your plate. It's also great for leftovers.
Both of the above recipes we are sure you will enjoy whether you serve it for dinner, supper, or your evening meal.
Savory Pork Chops
4 pork chops, at least 1 inch thick or boneless
pork chops. I find the bone in chop is juicier.
1 teaspoon minced garlic
1/4 teaspoon ground ginger
1/4 teaspoon ground dry mustard
1 teaspoon fresh thyme
1/2 teaspoon black pepper
1/2 teaspoon salt
1 to 2 teaspoons brown sugar
You may double this mixture if necessary for a good coating depending on size of chops. Preheat oven 400°.
Mix together garlic, ginger, mustard, thyme, black pepper, salt, brown sugar. Rub the seasoning over pork chops on both sides covering completely.
In a skillet, heat 1 tablespoon olive oil add pork chops and brown quickly on both sides. I use a nonstick skillet. Transfer pork chops to a parchment lined cookie sheet. Bake for 20 to 25 minutes.
Delicious, simple and flavorful! Delightful served with a side of rice, potato or even a pasta.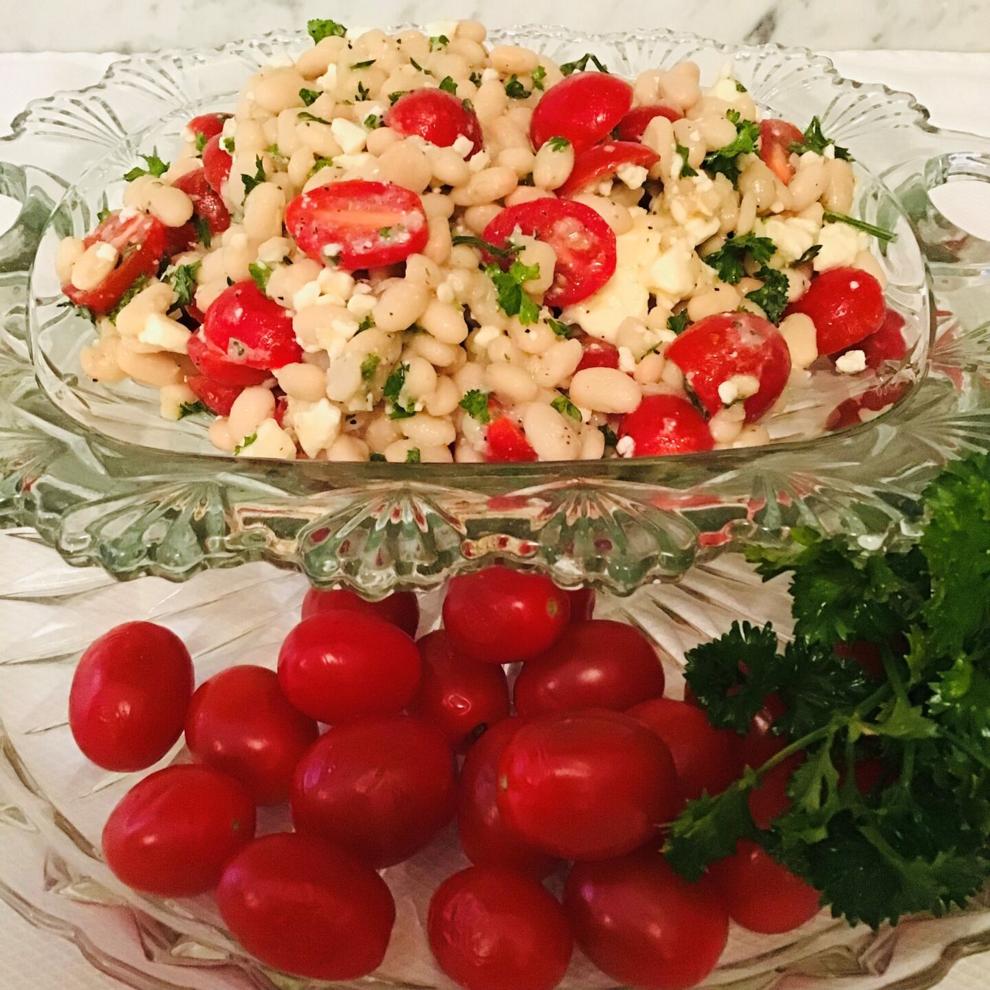 White Bean Feta Salad
2 cans (15 ounce) tiny white beans drained and rinsed well
2 tablespoons fresh lemon juice
2 tablespoons lite olive oil
1 teaspoon minced garlic
1/4 teaspoon salt or to taste
1/4 teaspoon black pepper or to taste
1/2 cup green scallions chopped
1/4 cup chopped fresh parsley
1 pint of grape tomatoes cut in half
2 ounces feta cheese crumbled
In a mixing bowl combine lemon juice, olive oil, minced garlic, salt, pepper. Mix well and set aside.
Drain the white beans and rinse well. Add drained beans, chopped scallions, chopped parsley, tomatoes and cheese in a bowl. Pour dressing over top and stir to mix. Chill before serving. This salad holds well for at least 3 to 4 days when refrigerated.