St. Patrick's Day is a global celebration of Irish culture that takes place in March, the anniversary of the Patron Saint of Ireland. This holiday celebrates the
Irish culture with parades, special foods, music, dancing, drinking and a whole lot of green. So, why not bring out your green, your good luck charms, shamrocks and good green foods? Even if you're not celebrating St. Patrick's Day, you can for sure try this hearty dish of Corn Beef and Cabbage. It is flavorful and delicious to serve any day. It cooks in the oven or crockpot for 4 hours and is a one dish meal that your family and friends will love. Leftover corned beef can be easily sliced and served with a spicy mustard on a roll. A festive green dessert that everyone will be tempted to try, including the adults, is a chocolate chip cookie sandwich filled with green buttercream. So yummy!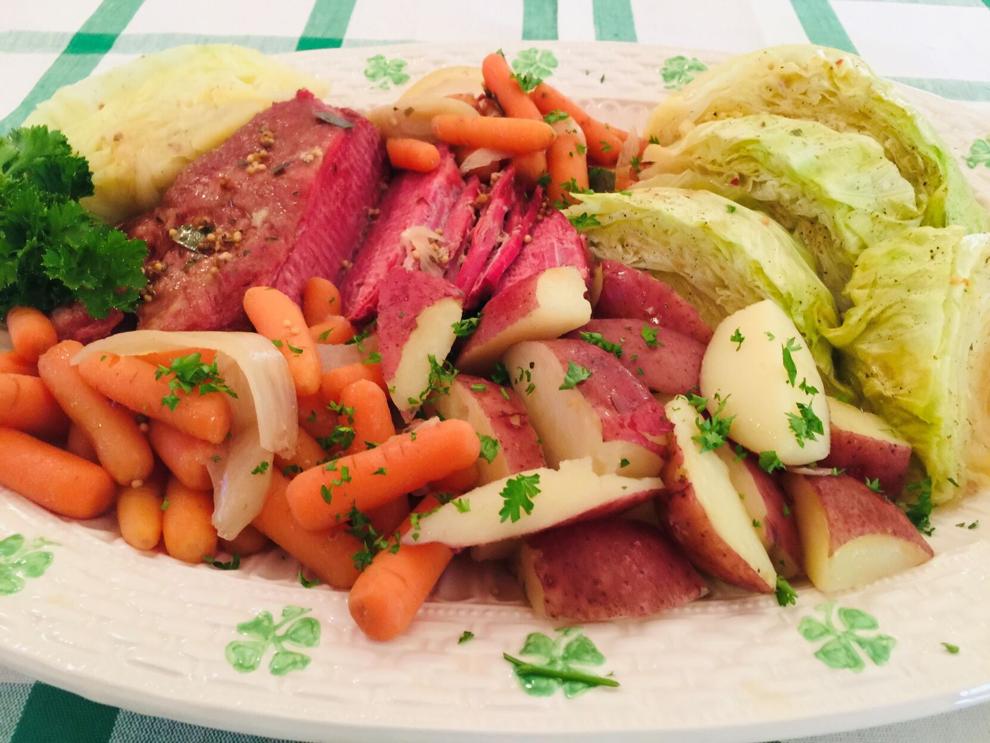 Corn Beef and Cabbage
1 (4- pound) corned beef brisket with spice packet
4 sprigs of thyme
2 bay leaves
Four large carrots, peeled and cut into pieces
10 baby red potatoes cut in half
One large onion peeled and cut into pieces
6 ounce can of beer, (optional) can use nonalcoholic beer also
One head of cabbage quartered
Rub the corned beef with the ingredients of the spice packet that comes with the corned beef. Place corned beef in a large pan or crockpot and cover with water, thyme, and bay leaves. Add the 6 ounce can of beer. Oven cook for 50 minutes per pound until tender or four hours in crockpot on high. Add the carrots, potatoes, and onion, the last hour of cooking. Add the cabbage the last 45 minutes. Cook until corn beef is fork tender. Serve with spicy mustard. Delicious!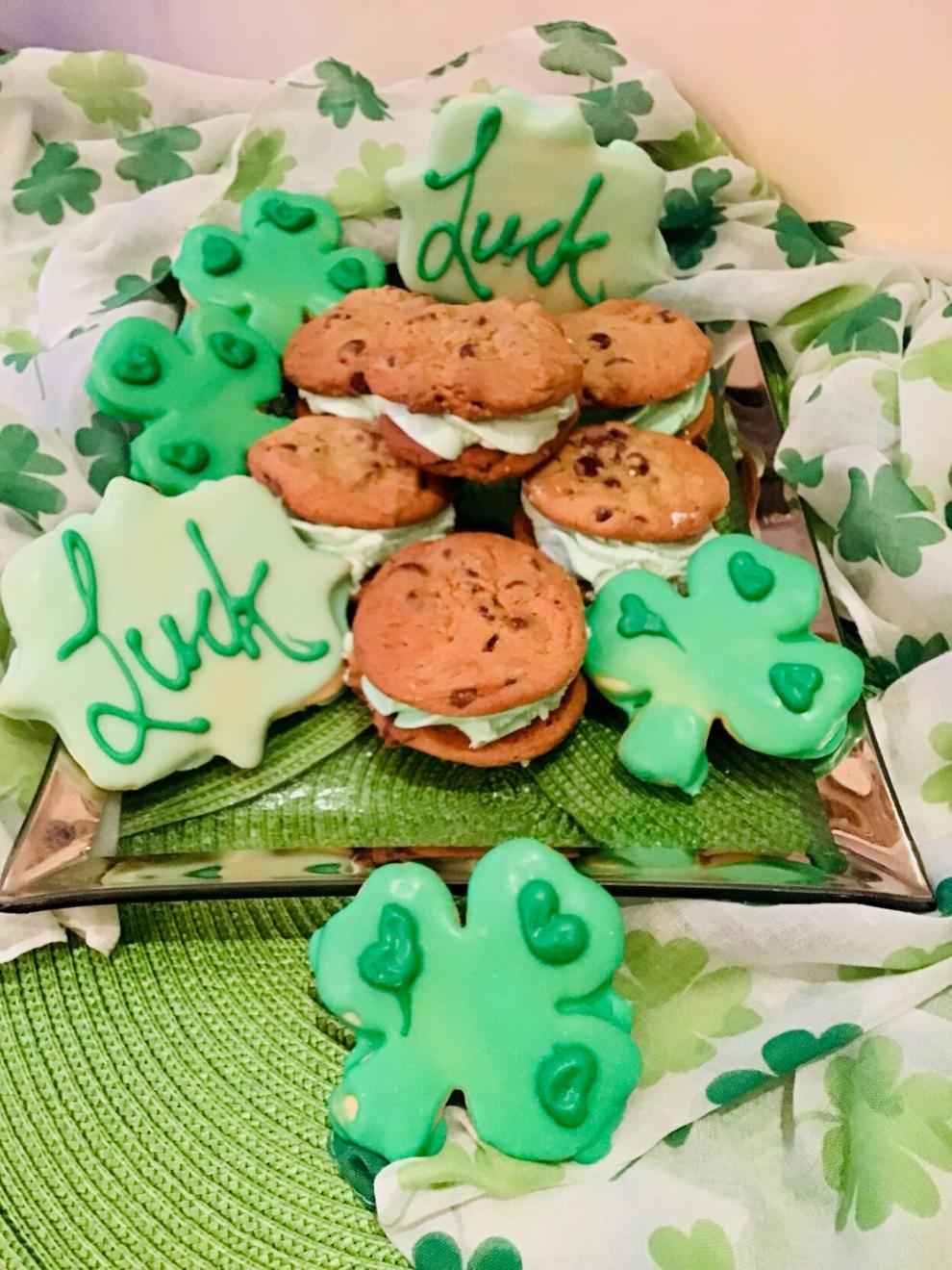 Green Buttercream Chocolate Chip Sandwich
2 1/4 cup all purpose white flour
1 teaspoon salt
1 teaspoon baking soda
1 cup butter softened
3/4 cup white sugar
3/4 cup brown sugar
1 teaspoon vanilla extract
Two large eggs
2 cups chocolate chips
One cup chopped nuts (optional) if omitting nuts add 2 tablespoons more of all purpose white flour to recipe instead of nuts.
Preheat oven 375°
In a bowl mix flour, baking soda, and salt. In another bowl beat together butter, white sugar, brown sugar and vanilla extract until creamy. Add eggs beating well. Gradually beat in flour mixture. Stir in chocolate chips and nuts. Drop by tablespoon onto cookie sheet lined with parchment paper. Bake 9 to 11 minutes until golden brown. Cool on baking sheet for two minutes, then remove to wire rack to cool completely.
Green Buttercream
3 cups powdered sugar
1/3 cup butter softened
11/2 teaspoons vanilla extract
1 to 2 tablespoons whole milk
In a bowl, mix together powdered sugar and butter with electric mixer on low. Stir in vanilla extract and 1 tablespoon of milk. Gradually beat in remaining milk to make the frosting smooth and spreadable. If the frosting is too thick, mix in a little more milk a teaspoon at a time. Add in two or three drops of green food coloring to mixture until getting desired color of green. Mix well. Set aside.
To make cookie sandwich:
Take one cookie and spread desired amount of green butter cream on bottom of cookie. Place another cookie on top of green buttercream to make sandwich. Chill cookies until serving time if desired. These cookies can sit out at room temperature and will do just fine.
If you do not want to make homemade chocolate chip cookies you may substitute slice and bake cookie dough that can be purchased at your local store. Bake according to package directions and follow instructions above for butter cream and how to put together your chocolate chip cookie sandwich. Festive and fun!