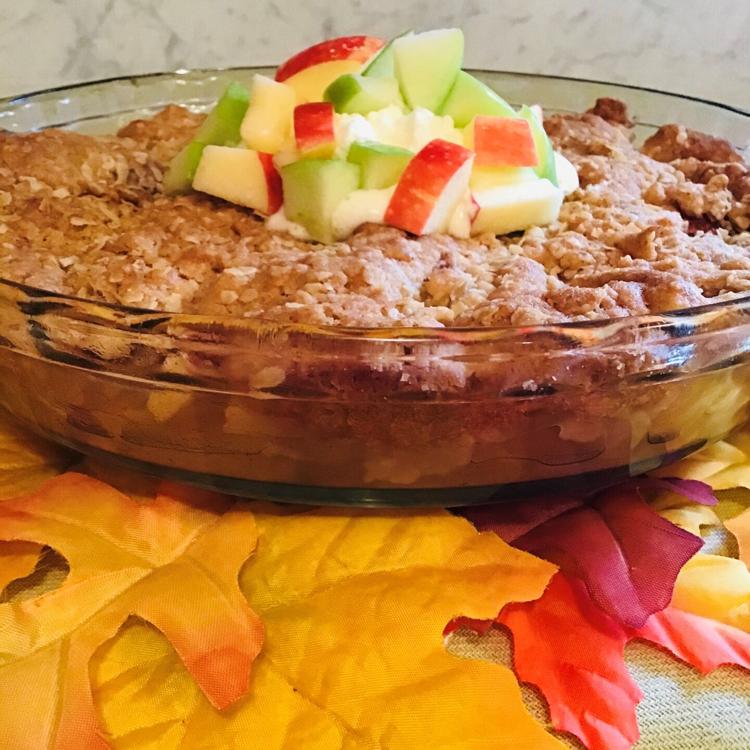 Fall Apple Crumble
4 cups peeled sliced apples
1 cup packed light brown sugar
3/4 cup all-purpose white flour
3/4 cup old-fashioned oats
1/2 (1) stick butter melted
Peel core and sliced apples. Spread the apples in a 9 inch baking pan. Combined the brown sugar, flour and oats in a bowl and mix well. Stir in melted butter. Spoon the crumb mixture over the apples. Bake at 350° for 45 minutes. Serve warm in a dessert bowl or goblet. Serves eight. I have made this recipe for many years using different fruits, such as blueberries, pears, and apples. It is unique, not too sweet and really delicious. Can be topped off with a dollop of whipped cream.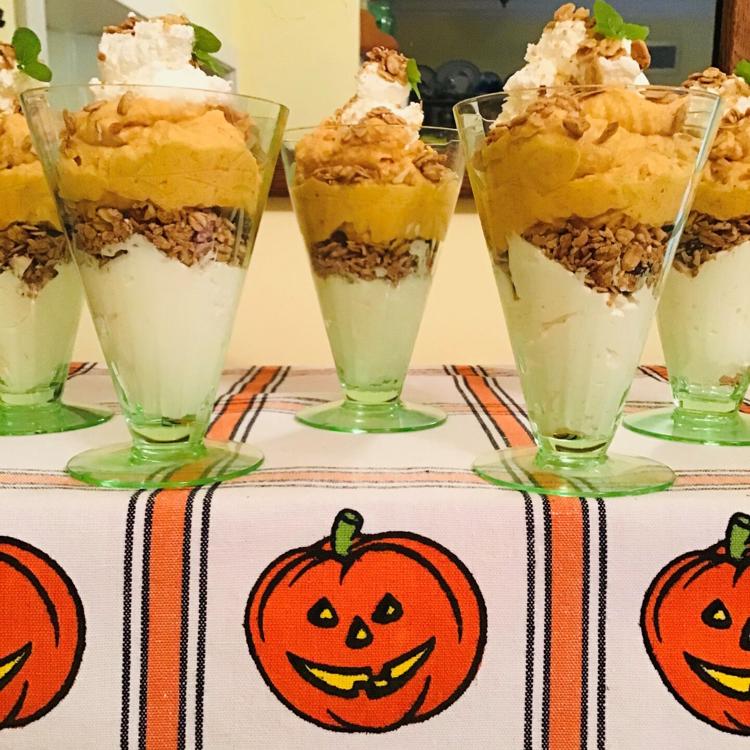 Pumpkin Parfait
1 can canned pumpkin
1/2 teaspoon ground cinnamon
1/2 teaspoon ground nutmeg
1 cup powdered sugar divided
1 (8- ounce) package cream cheese
1 (8- ounce) Cool whip whipped topping thawed and divided
1 1/4 cup of your favorite granola crumbs
In a bowl beat together cream cheese, half container of Cool Whip and half cup of powdered sugar, mix until smooth.
Set aside. In another bowl mix together canned pumpkin, the other half of the container of Cool Whip, and the other half a cup of powdered sugar, cinnamon and nutmeg. In parfait glasses, layer cream cheese mixture, granola crumbs, and pumpkin mixture. Garnish with whip cream, and granola crumbs. Chill before serving. Using the granola in this recipe makes it not so sweet and gives this dessert a nice texture.
Tip: Add a half cup dried cranberries to the Fall Apple Crumble for a different twist on this delicious dessert.