It is with great excitement that Zoo Miami, in collaboration with Wildlife Rescue of Dade County, announces that the pair of bald eagles that have been the subject of their "Eagle Cam" have produced an egg!
In collaboration with Wildlife Rescue of Dade County and the Ron Magill Conservation Endowment at the Zoo Miami Foundation, a man-made nesting
platform was constructed for a pair of bald eagles that had lost their nest to a storm. When that nest was destroyed in the storm, the two chicks that were in it fell over 80 feet to the ground. Sadly, one of the chicks did not
survive. The other was badly dehydrated and had suffered a fractured wing. After surgery and months of rehabilitation at Wildlife Rescue of Dade County, the eaglet was successfully released on the border of Everglades National Park by Miami-Dade-Mayor Daniella Levine Cava.
Because of the lack of success the adult pair had in raising the chicks due to the unstable nest location, Zoo Miami's Ron Magill teamed up with Wildlife Rescue of Dade County's Lloyd Brown, to construct a stable platform at the previous nest sight in hopes that the pair would return and utilize the platform to rebuild their nest.
In addition to the platform, the team also installed state-of-the-art high definition cameras that would allow the activity at the nest platform to be viewed online 24 hours a day.
Though many experts said that the eagles would not return due to the construction of the platform and installation of the cameras, they did indeed return and after some hesitation, began to rebuild their nest on the man-made platform!!
For weeks, we have observed the pair bringing in a variety of materials ranging from thick branches to soft grasses as they worked together to construct the new nest. The big question was whether or not they would actually get to the point of producing eggs.
There was a scare a few days ago when a rogue female that was unofficially named "Jezebel," flew into the nest and fought off the male! It has been
documented that eagles will occasionally try to take over the nests of other eagles when there are limited nesting areas so there was a real fear that this may occur. Fortunately, the pair was able to take the nest back and "Jezebel" has not been seen since!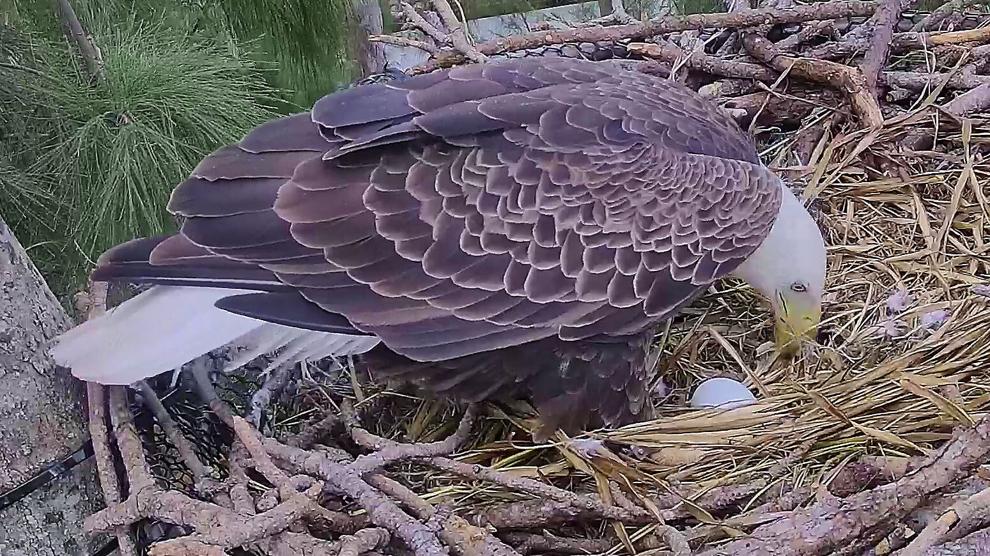 "Rita," the female eagle was seen sitting on the nest for the first time at night. She was restless as she kept repositioning herself in what appeared to be attempts to get more comfortable. Then, she ruffled up her feathers and appeared to be shivering. When she stopped shaking, she stood up and there was a freshly laid egg under her!
This is extremely exciting for everyone who has invested so much time and effort to provide these majestic birds with a safe and stable nesting area for all the world to see and appreciate without being intrusive.
Bald eagles typically lay two eggs so it is expected that "Rita" will lay another egg within the next few days. If all goes well, with an incubation period of approximately 34-36 days, we could see eagle hatchlings sometime between Christmas and New Year's Day!
With that said, there are still many things that could go wrong. The eggs may not be fertile. They may be predated on by anything from small mammals to other birds. The parents may become sick or injured and not be able to care for the eggs. A severe storm could damage the eggs, etc.
The fact is that there are many challenges still ahead for this pair of eagles. Whatever happens, we must let nature take its course and will not interfere with any natural process. However, we hope that whatever happens, the unique opportunity provided by the work of Wildlife Rescue of Dade County and the Ron Magill Conservation Endowment will help connect people to nature in a more personal way.
There is an old saying that states: "In the end, we protect what we love, we love what we understand, and we understand what we are taught." Hopefully, by viewing the life and challenges of these eagles in real time, people will learn to understand then better and in turn, love them.
Live Eagle Nest Cam: https://www.zoomiami.org/bald-eagle-cam