The lush flora and fauna environment of South Florida with coast, the Everglades, and waters whether salt or fresh, draws millions of visitors every year as residents increasingly seek ways to ensure these natural treasures are protected, or in some cases, restored.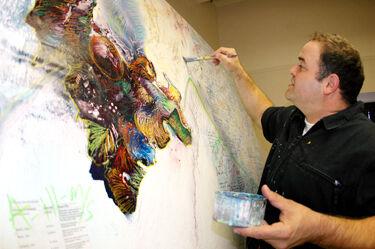 Xavier Cortada, artist, Professor of Practice at the University of Miami Department of Art and Art History (with secondary appointments in the university's Miller School of Medicine Department of Pediatrics and School of Law), has devoted years to using his talents to help raise awareness of issues and challenges.
Sunday, October 9, 2022; 3:00 p.m., at Phil's Berry Farm (13955 SW 248th St, Homestead), "Flying Solo – Artist X", brings a dramatic curation featuring Cortada to intersect art, and environmental science. Actors, dancers, and music blend for an immersive journey through his life to channel his spirit and philosophy. This moving work is another Phillip Church production through his non-profit, What If Works, Inc., (The performance was rescheduled due to Hurricane Ian.) Church explained the involved process in creating the offering for the stage.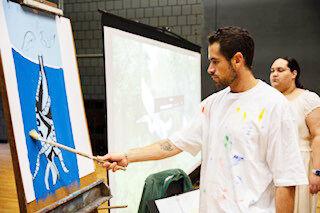 "In an attempt to share the work of activist-artist Xavier Cortada with a broader audience, "Flying Solo with Artist X" was conceived as a research project while Phillip M Church was still a fulltime professor of theatre at Florida International University. Originally aided by a grant from the W Mellon Foundation through the FIU Humanities Edge program Church worked with faculty and students from Miami Dade College.
Supported by a grant from Homestead Center for the Arts, What if Works is diving deeper into the multifarious work and philosophy of activist-artist Xavier Cortada whose work combining art, science and social justice has spawned nationally and internationally recognized installations, many of which involve in-person participation. Church and Cortada worked together in 2010 on a play about the issues of human trafficking, "Body & Sold". This project took them to the International Youth Arts Festival in London and the Kennedy Center in Washington, DC.
In framing the subject of art and advocacy "Flying Solo with Artist X" offers its audience a pre-show forum examining the value of art, ethics and performance led by celebrated South Florida activist-choreographer, Dale Andree."
Cortada, who was previously designated as Artist-in-Residence at Pinecrest Gardens, was recently appointed by Miami-Dade County Mayor Daniella Levine Cava to serve as the inaugural Artist-in-Residence for Miami-Dade County. His website provides extensive information about his global-wide travels and work to include art at the North and South Poles. "Cortada has also been commissioned to create art for CERN, the White House, the World Bank, Florida Botanical Gardens, Miami City Hall, Miami-Dade County Hall, the Florida Turnpike, Miami-Dade Art in Public Places, Miami-Dade Housing Authority, the Frost Science Museum, Museum of Florida History, the Patricia and Phillip Frost Art Museum, among many other art, science, and government venues." (https://cortada.com/artist/)
Tickets for the Sunday, Oct 9th, 3:00 p.m., performance of "Flying Solo – Artist X", are $10; $8 for students and veterans. For tickets, go to www.whatifworks.com