Ever since their role in the feature film of the same name, the popularity of fried green tomatoes has grown. They can be found in many farmers markets and even supermarkets.
Our Green Tomato BLT is an old time favorite sandwich with a Southern flair twist.
Serve it with our delicious Aioli mayonnaise. The mayonnaise is easy to prepare and can also be used on other sandwich's and a nice dip for vegetables. It's just a fancier way to serve mayonnaise.
Top it off with a slice of Limeade Pie that everyone will enjoy.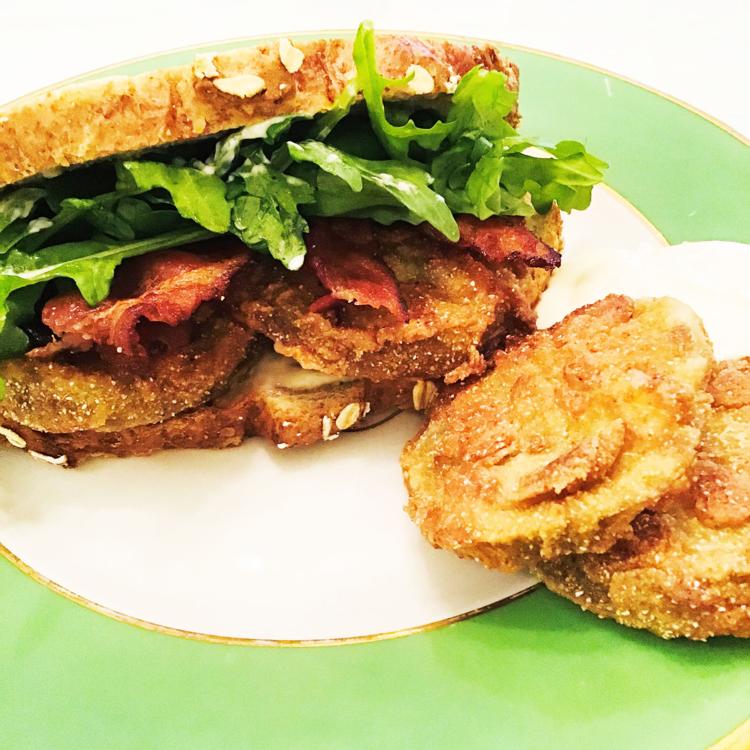 Fried Green Tomato BLT
You will need bread, I used a nice hearty type of bread. Bacon cooked, two slices per sandwich.  Arugula or your favorite greens about 2 cups.
For Tomatoes
3 firm green tomatoes, sliced. 1 egg
1/2 cup buttermilk 1/2 cup plain flour
3/4 cup cornmeal Vegetable oil for frying
In bowl combine milk and egg, set aside.
Mix together flour and cornmeal. Heat oil in large skillet. Dip sliced tomato in flour mixture, then egg mixture, then flour mixture again. Cook about 3 minutes per side until golden. Drain.
Aioli Mayonnaise
1/2 cup mayonnaise
1 tsp minced garlic
1 tablespoon olive oil
1 tablespoon fresh lemon juice
Combine all of the above ingredients and chill.
For Sandwich: lay bread on work surface and lightly spread with aioli mayonnaise. Top with fried green tomatoes, bacon and arugula. Close the sandwich and cut in half to serve. You can use plain mayonnaise also if you prefer.
Limeade Pie
1 1/4 oz can Eagle Brand
Condensed milk
1 6 oz can frozen limeade
8 oz container cool whip
A few drops of green food color
9 inch graham cracker crust
For crust:
1/2 cup butter
1 1/2 cups graham cracker crumbs
1/4 cup sugar
Melt butter in bowl add sugar and crumbs. Press into a 9 inch pie pan and bake 375 degrees for 8 minutes. Cool. If you are in a hurry a ready made crust will do. Mix together condensed milk and frozen limeade. Add in green food coloring and fold in cool whip. Pour into cooled pie crust. Chill a few hours until set or overnight. Light, cool and refreshing. Perfect for this time of year!
Tip: You can substitute frozen lemonade instead of limeade for the pie.