This Memorial Day more than ever is a time for remembering everyone who has died serving in our Armed Forces. This day is also the unofficial beginning of the Summer Season.  This time of year, my family's love for mangos always has me making mango recipes for Memorial Day. From my Mango Salsa I have shared in the past, to Mango Bread, and Mango Cobbler, this colorful, different and delicious Mango Salad will be a winner for anyone's table. The mangoes I used in this recipe came from our very own family tree.  However, there are several local stands that are now carrying them as well. These recipes are both Memorial Day favorites.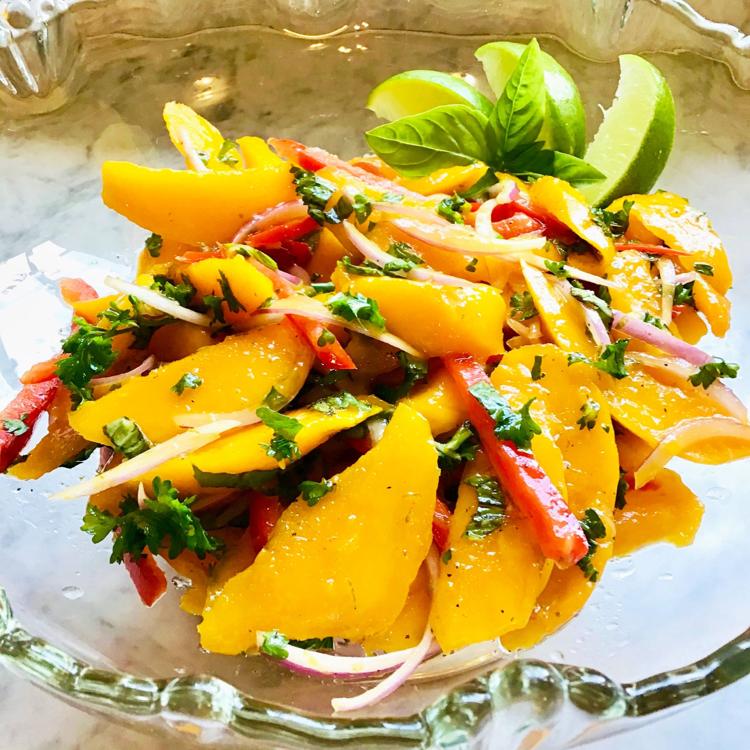 Mango Lime Vinaigrette Salad
3 Mangos peeled and sliced
1/2 red bell pepper sliced thin
1/2 purple onion sliced thin
1/4 cup fresh parsley or cilantro chopped( I used parsley both are great)
1/4 cup fresh basil chopped
Dressing
1 tablespoon white sugar
1 tablespoon lite olive oil
1/4 cup fresh lemon or lime juice ( I used lime both are great) Zest of lemon or lime Salt and pepper to taste Mix all ingredients for salad in large bowl except dressing. Set aside. Whisk together all ingredients for dressing and drizzle over salad just before serving. Unusual, colorful and very delicious!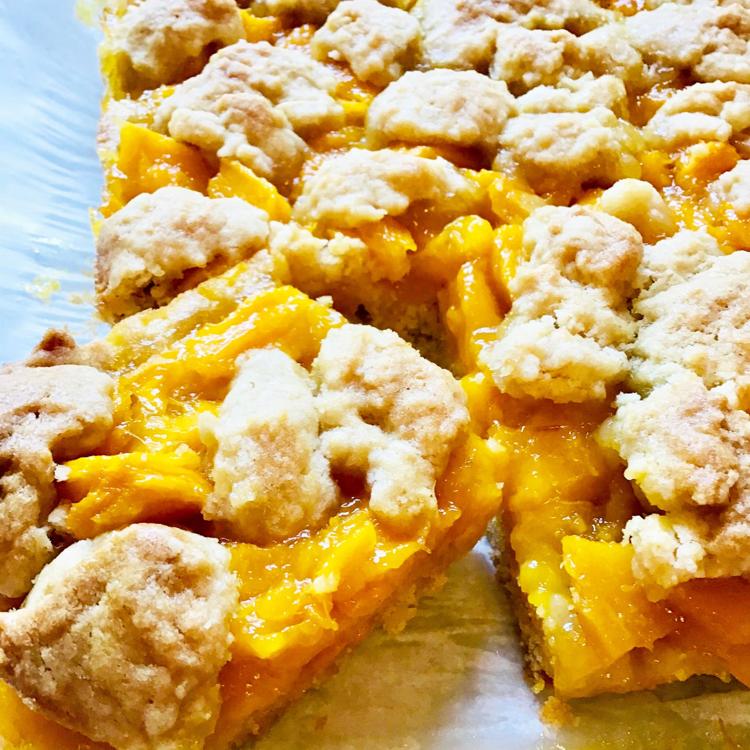 Mango Bars
2 1/2 cup mangos cut into bite size chunks
5 tablespoons white sugar
1/2 tablespoon corn starch
2 cups plain flour
1/2 teaspoon baking powder
1 and 1/2 sticks butter
2/3 cup brown sugar
1 egg
1 teaspoon vanilla extract
Line a 8x8 pan with parchment paper.
In bowl combine mango chunks, 5 tablespoons sugar and cornstarch. Set aside. Cut butter into chunks and mix with flour and baking powder until mixture forms small crumbly chunks. Set aside. Mix together egg, brown sugar and vanilla. Add to crumbly flour butter mixture. Mixture should be crumbly. Press 3/4 of mixture into pan. Spread mango mixture on top. Sprinkle rest of crumb mixture on top of mangos. Bake 350 degrees for 40 minutes. Lift parchment paper out of pan  and cut into squares. Dust with powdered sugar if desired to serve.
Tip: You can substitute apples, blueberries, or peaches in place of mangos for this bar recipe.